Lower Silesia is a land full of charm. It is here that majestic mountain peaks intertwine with green forests, calm lakes and the beauty of historic architecture. The amazing landscape creates a magical aura, perfect to pledge eternal love and celebrate a new stage in the relationship - the stage of marriage. Wedding around Wrocław: how to use the advantages of this unique place? Where to organize a romantic wedding?
Why is Lower Silesia the perfect place for a wedding?
Lower Silesia is an extremely picturesque region in south-western Poland, which can charm even the most demanding visitors. Wrocław itself, as the largest city and the capital of the region and the center of cultural life, delights us with a variety of attractions and lots of unique monuments that remind us of the city's rich history.
CTA block
Are you looking for a wedding hall in the vicinity of Wrocław?
See for yourself that the climatic Dwór Korona Karkonoszy is the perfect place!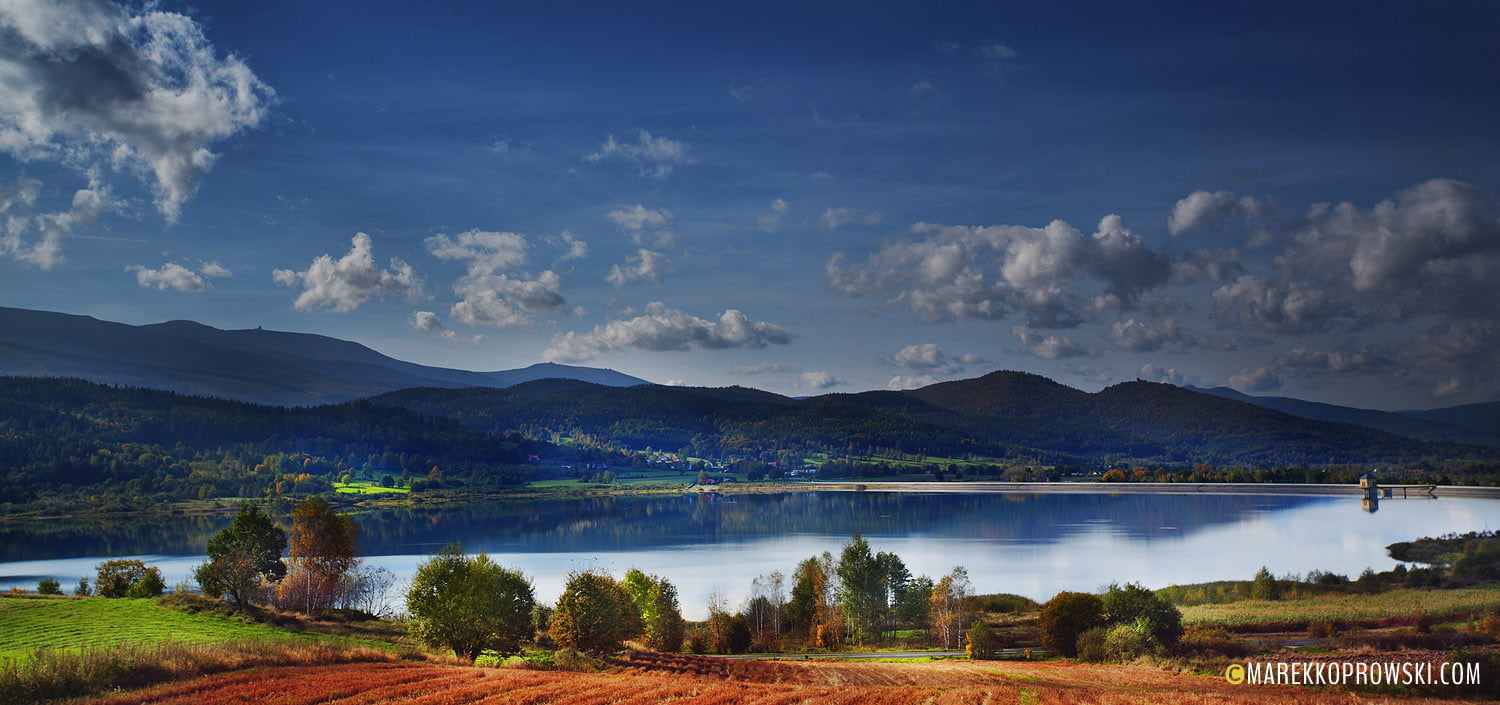 Wedding Lower Silesia – it is also excellent cuisine, in which you can feel a clear inspiration from Polish, German, Czech and borderland cuisine. Probably everyone has heard about traditional Silesian dumplings served with roulades, red cabbage and velvet gravy. This regional Lower Silesian dish served at a wedding will undoubtedly satisfy even the most sublime taste preferences.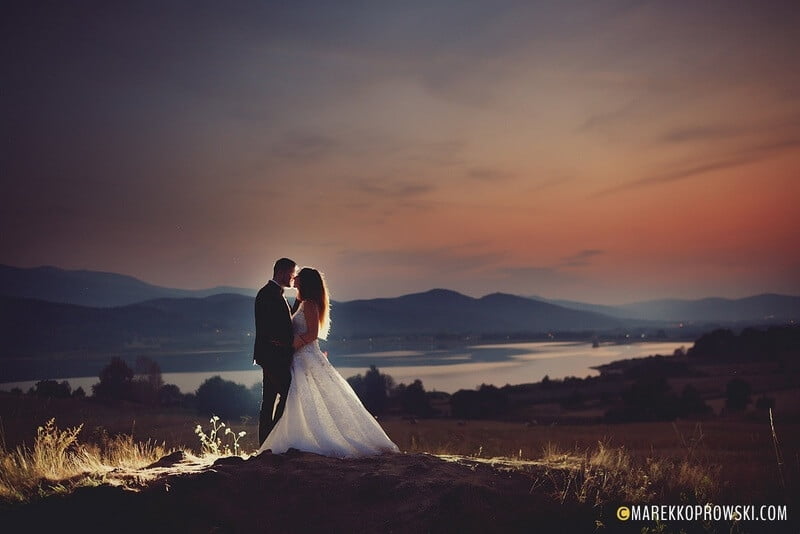 Undoubtedly, Lower Silesia is a paradise for lovers of magical landscapes and those who love spending time outdoors. It is worth mentioning, for example, the unique Barycz Valley, which impresses with the richness of flora and fauna. Let's also not forget about the largest forest complex in Poland - Bory Dolnośląskie, which add incredible charm to small deserts and inland dunes. And what is it like the best place for a wedding in the vicinity of Wrocław? Of course, the Giant Mountains!
Dreaming of a magical wedding? Choose the Giant Mountains!
The Karkonosze Mountains are a unique place. It is the highest mountain range in the Sudety Mountains, which attracts many tourists from all over the country and abroad every year - both those thirsty for sensations and lovers of beauty, who want a peaceful rest amidst picturesque natural surroundings. The varied relief of the land, dotted with granite rocks, unique vegetation and charming, rapid streams, looks truly magical.
Karkonosze is a region offering a wide range of accommodation. We will find here a lot of picturesquely located hotels, manor houses and other facilities where you can organize amazing wedding party. Wedding in the vicinity of Wrocław, and more precisely in the beautiful Karkonosze Mountains, is a guarantee of great fun, positive emotions and unforgettable impressions. The most important "yes" in life surrounded by majestic mountain peaks covered with a layer of white down or densely dotted with colorful spring flowers is the quintessence of romance.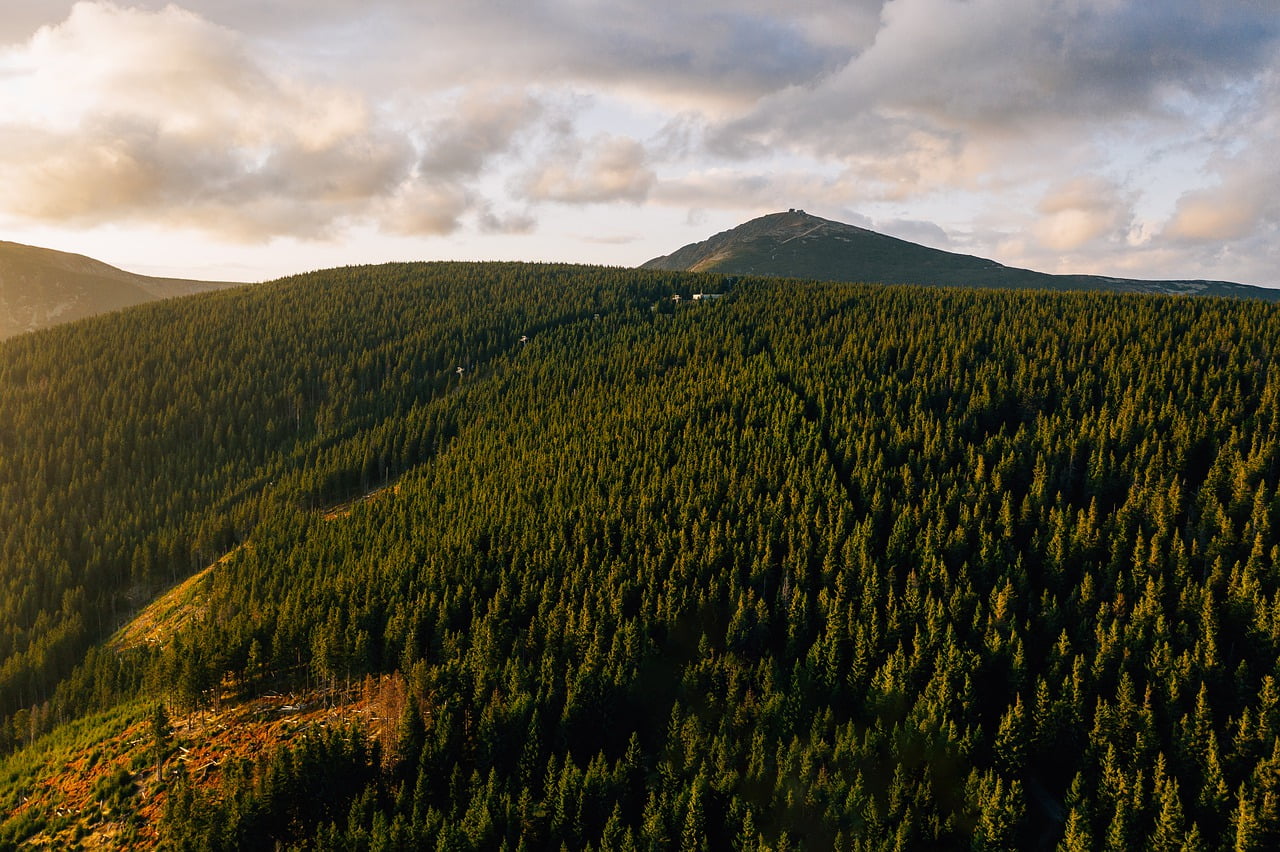 Wedding in the vicinity of Wrocław - the perfect wedding venue
The wedding is the most important party in the life of every couple in love. It is a real celebration of love, which many want to celebrate in a unique way. No wonder that the bride and groom pay so much attention to ensuring that every element of the reception - including the wedding hall - is perfect in every detail.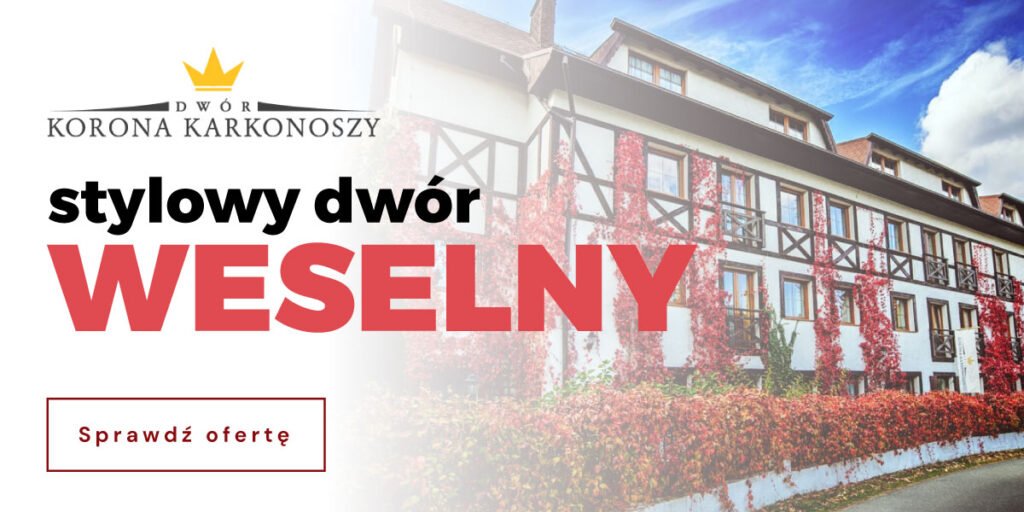 Searching for the right hall is one of the longest and most important stages of wedding preparation. The final decision regarding the choice of a specific venue largely depends on the estimated number of guests, the budget that the bride and groom can allocate for renting hall for the wedding, lovers' preferences and the chosen leitmotif. Particular attention should be paid to the last point, i.e wedding style.
Themes of the wedding it is something that gives shape to the whole ceremony, defines each of its elements, but also binds everything into one aesthetic whole. The interior of the hall creates a specific base for the wedding decor. So where to organize rustic wedding in the vicinity of Wroclaw? And what is the perfect place for a glamor party? And for a country feast in highlander style?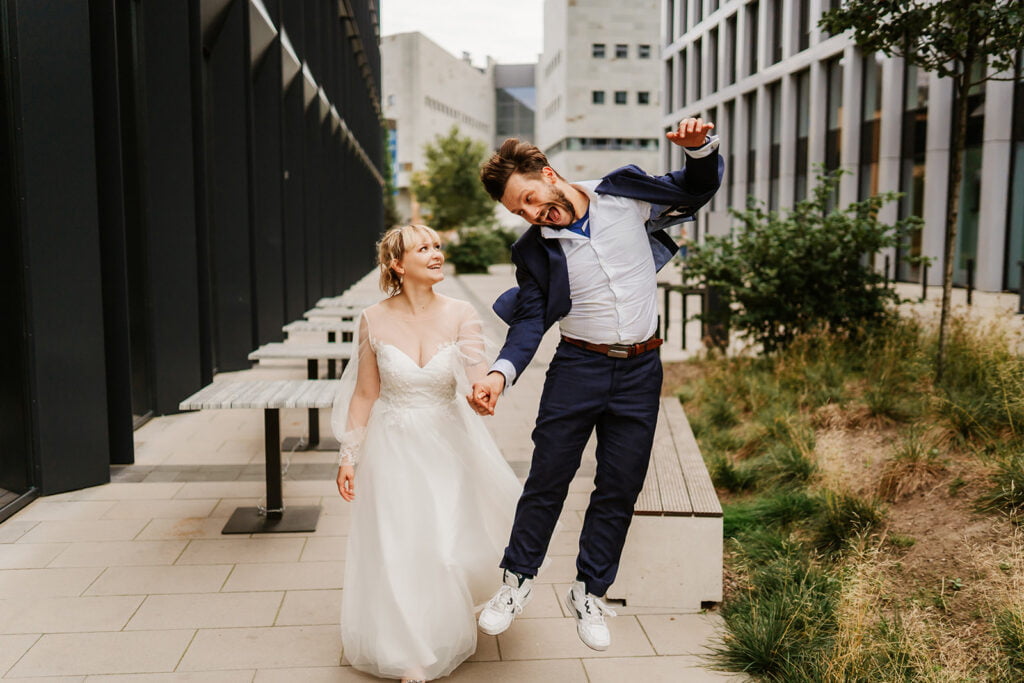 A rustic wedding in the vicinity of Wrocław
Rustic style is a return to nature. Rustic arrangements are dominated by minimalism and lightness. To perfectly reflect the subtle nature of the rustic style, it is worth organizing a wedding in a tent. The walls of the tent can be rolled up to "be closer to nature". A wedding in the vicinity of Wrocław organized in a tent is a celebration surrounded by beautiful nature and charming landscapes. Such a ceremony will undoubtedly be a great experience for the wedding guests.
The wedding tent must have carefully selected decorations that will emphasize the natural and sensual style of the wedding. To prepare a subtle rustic arrangement, you can use:
fresh and dried flowers – including roses, eucalyptus, eustoma, gypsophila, ferns, carnations or peonies,
strings and other jute decorations,
soft lights, candles,
wooden elements - a wall behind the young ones, coasters for glasses, a cake topper, wedding signposts,
aged things - e.g. clocks, boxes, barrels,
lace doilies,
paper extras.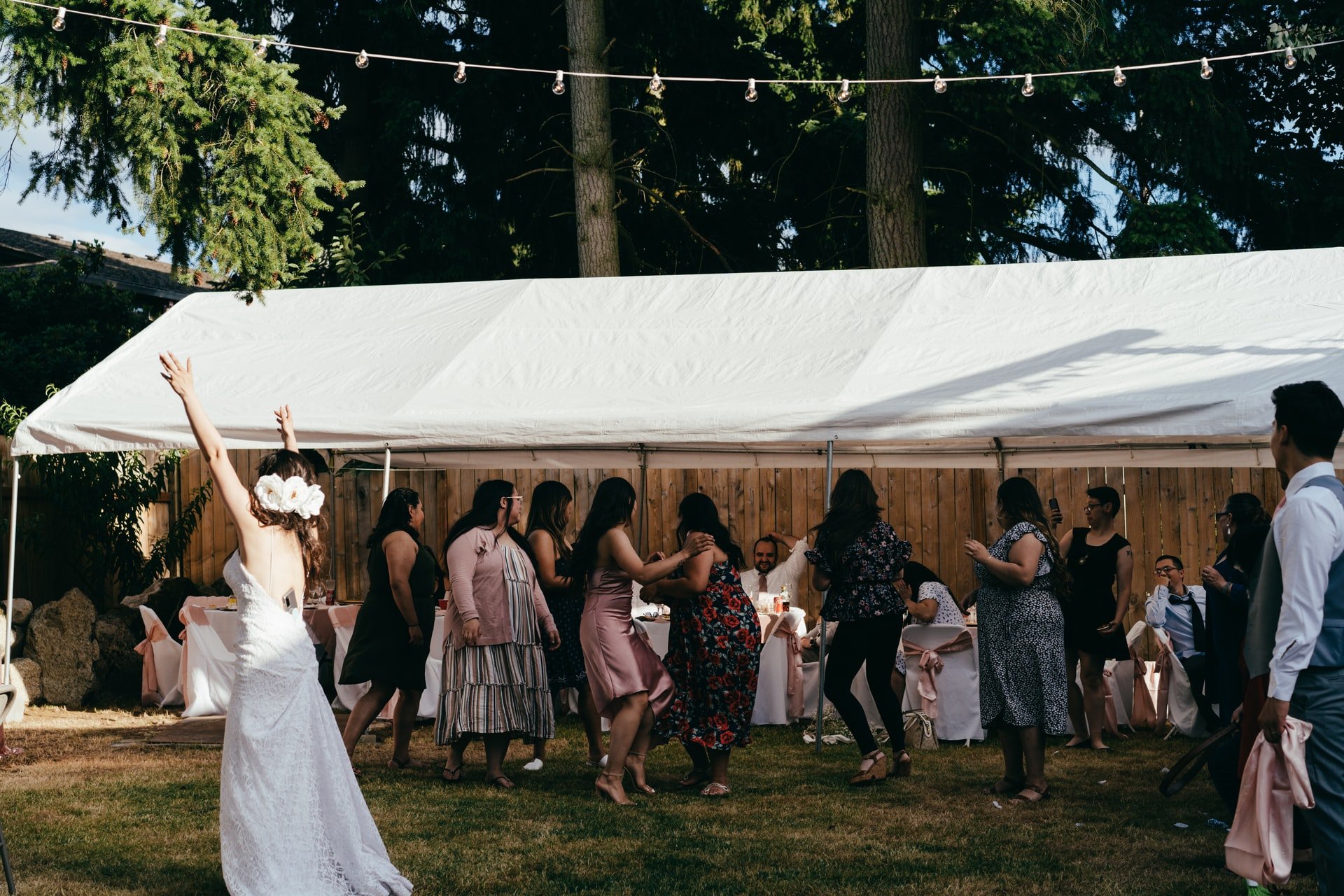 Sumptuous glamor party in the manor
The complete opposite of the delicate rustic style is wedding and wedding in glamor style. This motif combines a touch of luxury and incredible brilliance with uncommon elegance. It has something of kitsch, and at the same time it is sumptuous and a bit sublime. The perfect place for a glamorous wedding reception is a stylish manor house with access to a beautiful garden. In the manor house, it should be elegantly arranged wedding hallwhich will be matched with glittering glam decorations. And that's what it is Court Ballroom in Dwór Korona Karkonoszy.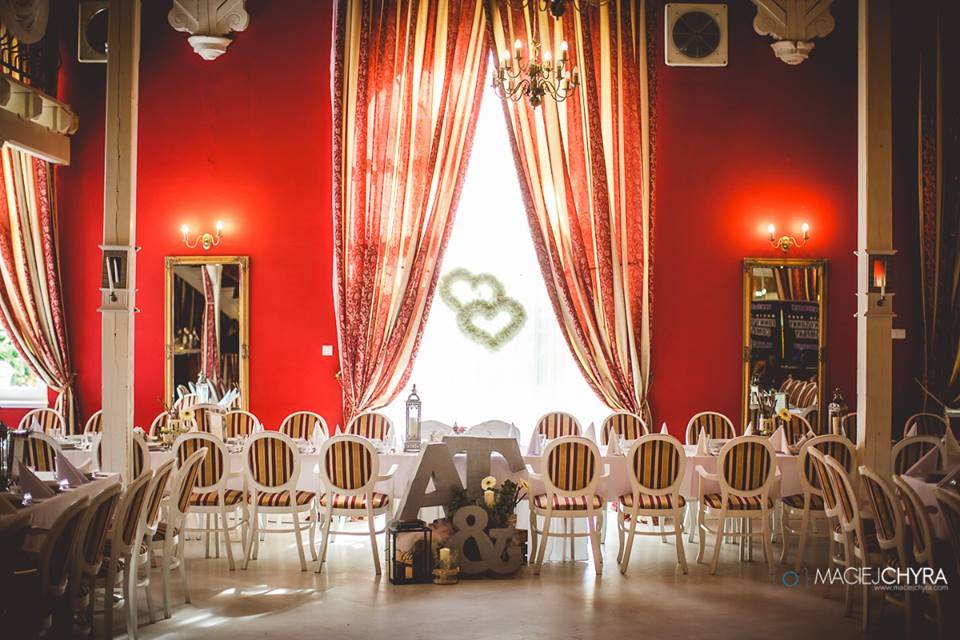 It is a spacious carmine-colored room that can accommodate up to 170 people, which makes it an ideal place for lavish wedding receptions. The biggest advantages of the room are the white, wooden vault suspended 9 meters above the ground and large, arched windows, from which there is a view of the beautiful rose garden. In addition, the unique style of the room will be complemented by stylish candlesticks, English fruit platters and atmospheric lanterns.
Dwór Korona Karkonoszy is located in Sosnówka, located a few kilometers from Jelenia Góra and Karpacz. So this is the perfect place to be elegant wedding in the vicinity of Wrocław!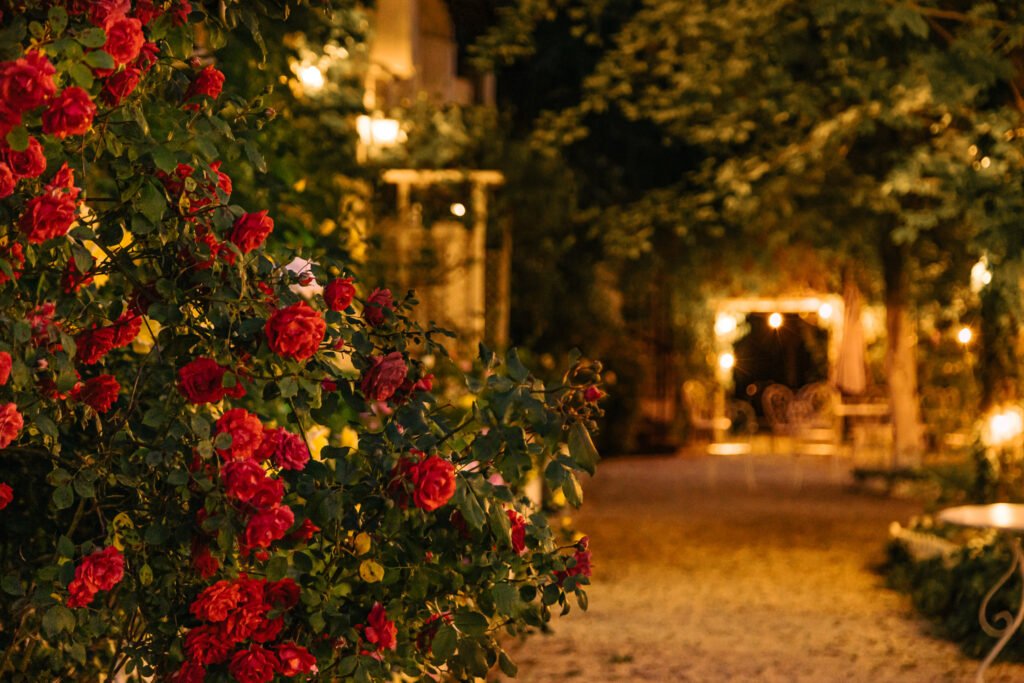 A folk wedding in the heart of the Karkonosze Mountains
The vicinity of Wrocław, especially the Karkonosze Mountains, is an excellent location for folk wedding, which is a real country dance party with traditional wedding games, colorful, highlander wedding dresses and decorations in the folk style. The wedding arrangement cannot miss spectacular cut-outs, red, yellow and blue flowers and other colorful decorations. Homely food must necessarily appear on the tables.
The ideal place for a folk-style wedding is a traditional highlander's cottage. A classic wedding hall will also be perfect. Carefully prepared decoration can create a folk atmosphere in any room.
Not only a wedding - Wrocław and its surroundings are a great place for a proposal!
A wedding reception in the vicinity of Wrocław is a guarantee of unique experiences, great fun and extraordinary memories. However, it is worth going to Lower Silesia earlier. It is a great place for a proposal! The beauty of the area creates a wonderful, romantic aura, perfect for confessing your great love to your chosen one and asking her to marry you.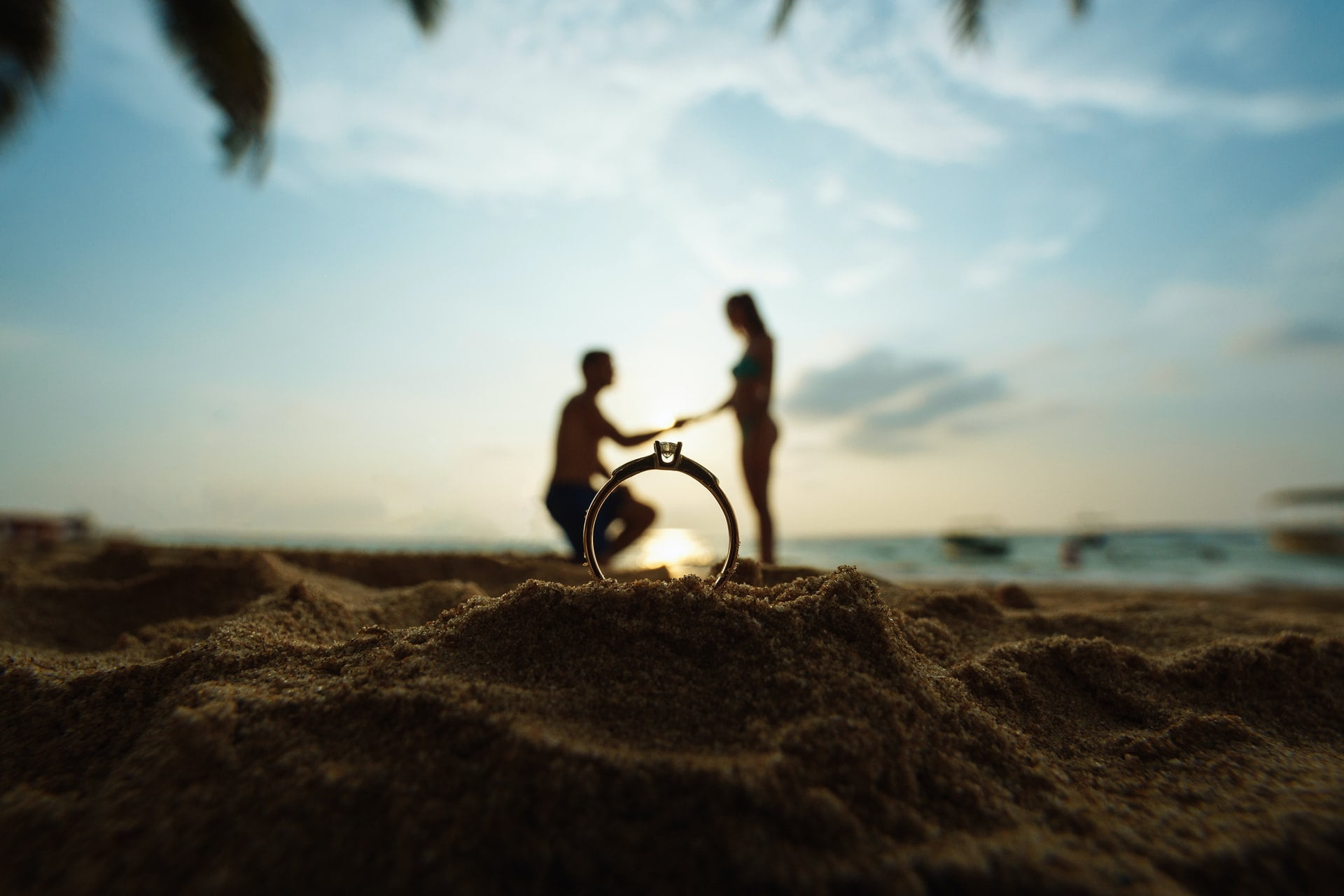 Where to propose in Lower Silesia? On the observation deck on the 49th floor of the SkyTower in Wrocław, in the picturesque Japanese Garden in Szczytnicki Park, on the charming Mietkowskie Lake in the Bystrzyca Valley Landscape Park, or maybe at the very top of Śnieżka? The possibilities are endless, and the only limit is your imagination!
Which wedding venues to choose?
Choosing the right one hall wedding is crucial for a successful wedding organization. Here are some important factors to consider when looking for the right wedding venue:
Room capacity
It is important to choose a wedding hall that will accommodate all the invited guests. It is worth checking how many people a given room can accommodate and whether it will not be too tight. Or too empty, because too large a room in relation to the number of guests is also not conducive to the mood.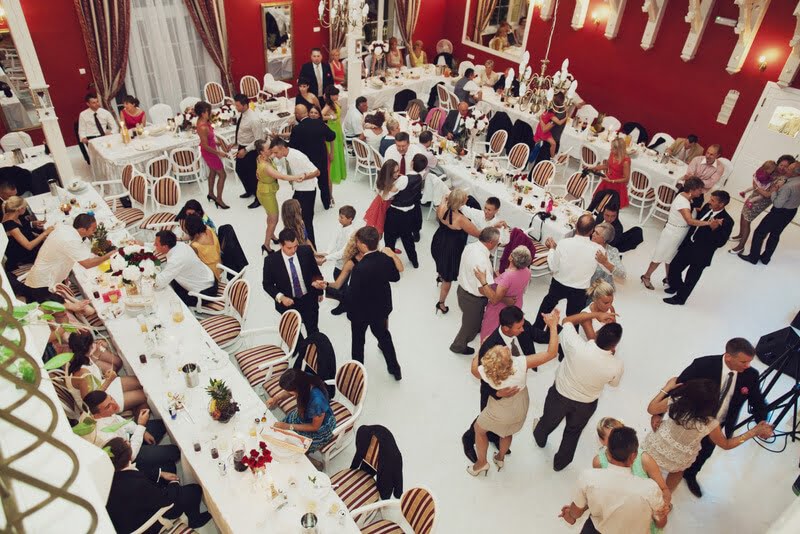 Location
It is worth choosing a wedding hall that will be easily accessible to all guests. It is worth choosing a wedding hall near the place of the wedding ceremony or in a convenient location for all participants of the wedding. Travel weddings are becoming more and more popular, but then you have to take care of accommodation and transport.
Decoration
It is worth choosing a wedding hall that will suit the style and preferences of the Bride and Groom. You need to pay attention to whether the room has the right atmosphere and whether it will be possible to decorate it in an interesting way, in accordance with the theme of the wedding. Folk wedding, rustic, glamor, boho, Hamptons - it's best to look for a room that will fit into the given style.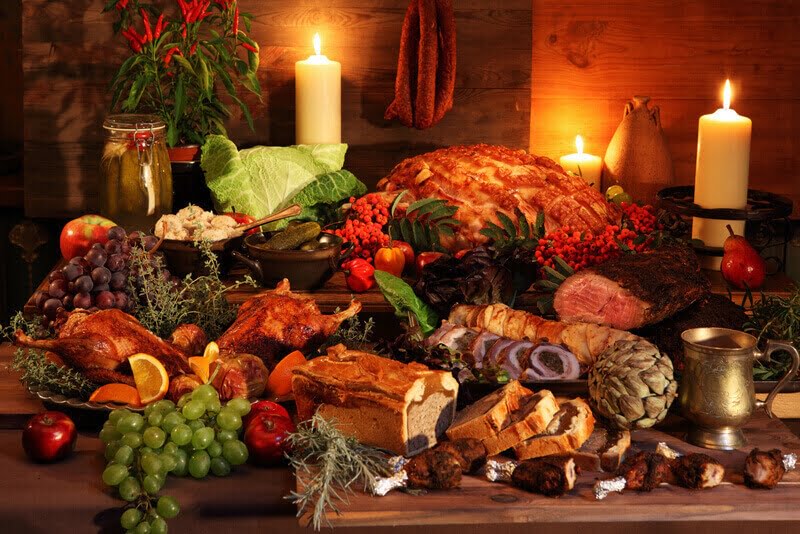 Catering
It is best to choose a wedding hall that offers good quality catering or allows you to use the services of a third-party provider. Make sure the menu and price match your preferences. Regional, seasonal food - this is now fashionable at weddings.
Service
It is important to choose a wedding hall with the right service. Make sure that the service will be at a high level and they will take care of all guests.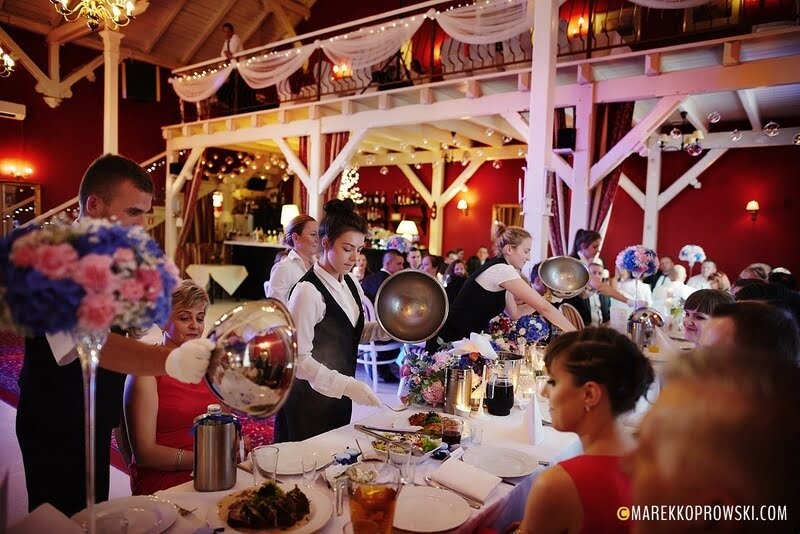 Additional amenities
If you want your wedding to be unique, it is worth looking for a wedding hall that offers additional amenities, such as accommodation for guests, a dance floor, the possibility of organizing an outdoor wedding, for example in the garden.
Price
Of course, the cost of renting a wedding hall is also important. However, it is worth remembering that the cheapest offer is not always the best. Before signing the contract, it is worth carefully analyzing all costs and considering what is included in the price. In addition, weddings are held only once in a lifetime, and the wedding hall largely affects the atmosphere of this ceremony. And it will remain forever in wedding photos and in the memory of all guests...
Organization of a wedding in Wrocław - proven attractions for guests
Currently additional attractions have become an indispensable element of every wedding, regardless of the place of its organization. In addition to the regular components of the wedding celebration, such as the first toast, a richly decorated cake, a band or a DJ encouraging to dance and have fun, additional accents are appearing more and more often. Their main task is to put guests in an even better mood and make this unique occasion to celebrate completely unforgettable.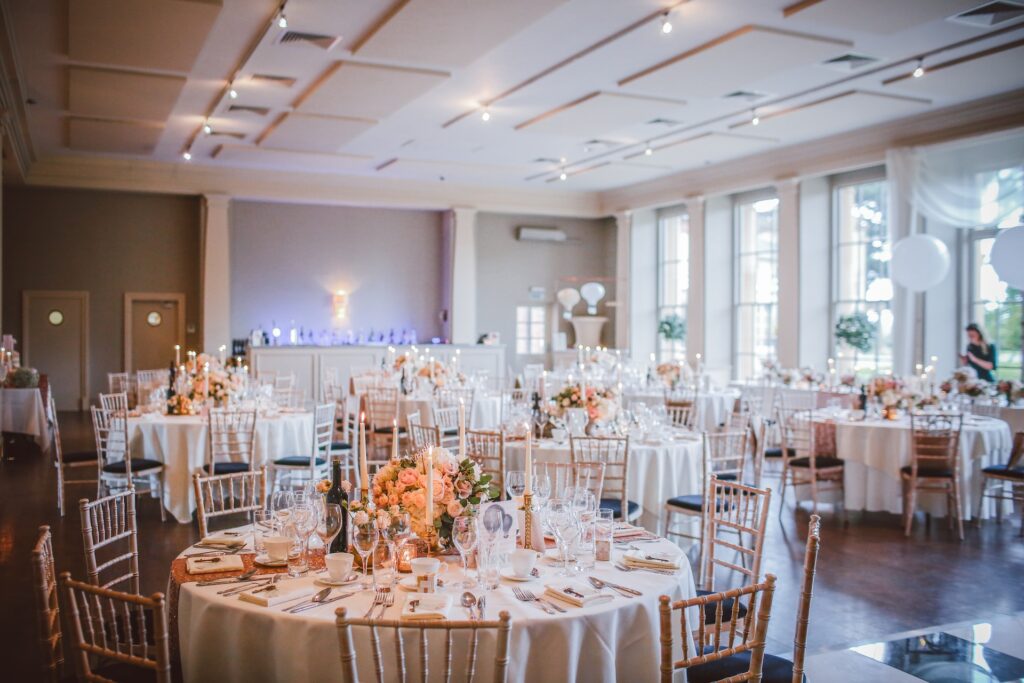 Thanks to additional attractions, the approach to traditional weddings has undergone a significant modification. Much more emphasis is placed on achieving the effect of surprise. According to many couples, this translates into a later assessment of the entire wedding and, of course, great memories. A wedding - around Wrocław or elsewhere - we usually organize once in a lifetime. No wonder we want it to be unique!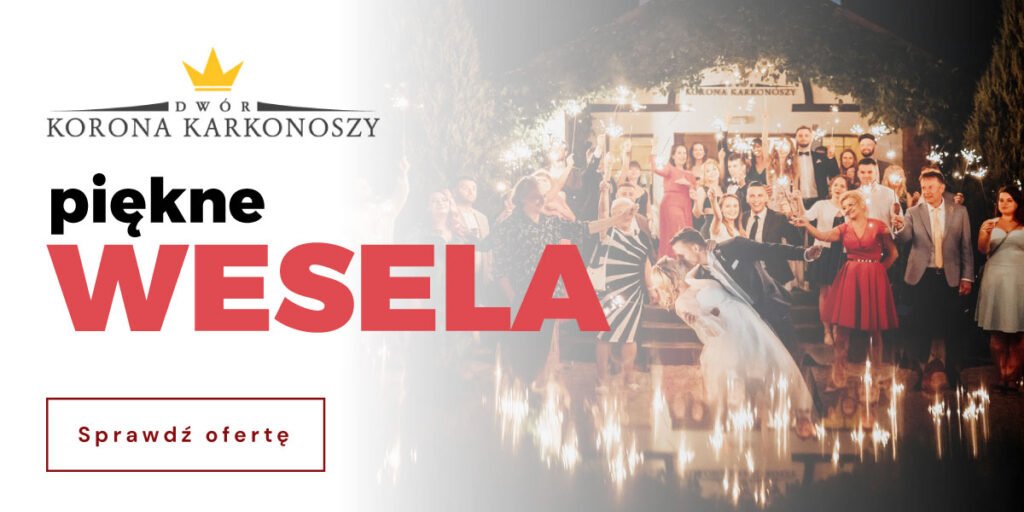 Not everyone wedding hall Wroclaw has a wide range of all kinds of attractions that can be freely modified and adapted to your own taste. Meanwhile, this is what the bride and groom expect. It often happens that the attractions are adapted to the style in which the wedding is organized. For example, in the case of a traditional wedding, these are usually typical feasts, enriched with common singing. Rustic style wedding is characterized by an idyllic atmosphere and decorations that match this convention, i.e. mainly natural materials are used. At such ceremonies, photos or films are often watched together, usually displayed on a projector, showing the past of the Bride and Groom and how their love developed.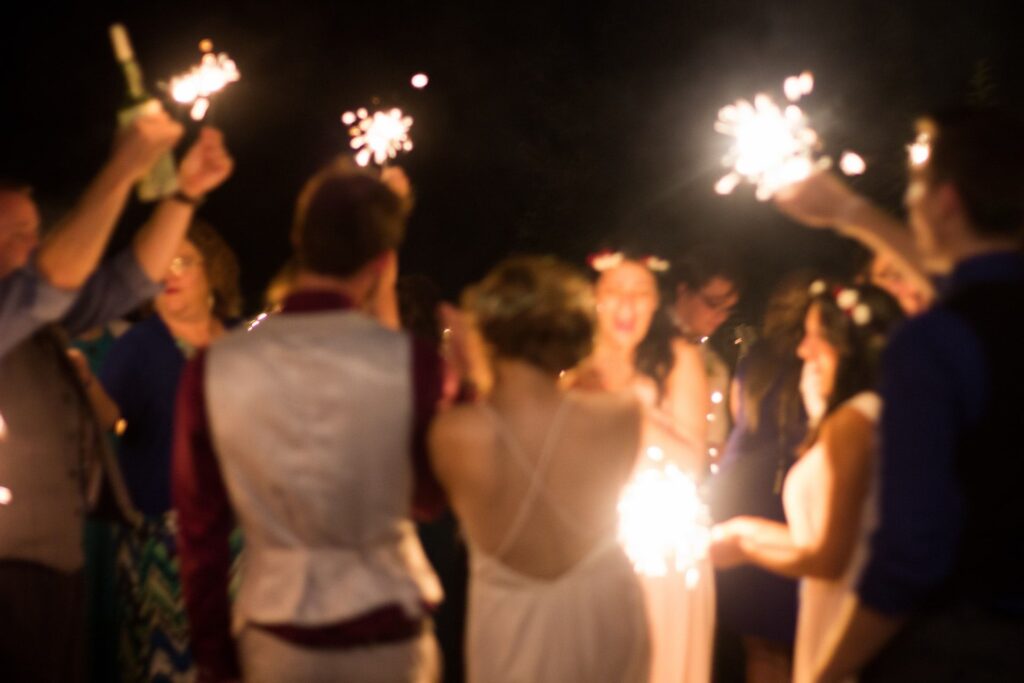 How to make love shine?
Another unforgettable and impressive attraction are the jointly released lanterns. Lights flickering in the sky give unforgettable effects. Admiring them against the background of the stars is extremely romantic. In addition, the whole spectacle can be accompanied by delicate music playing in the background. Some wedding halls in Wrocław offer joint firing of sparklers instead of lanterns. The advantage of this solution is the possibility of organizing a show indoors. Sparklers are also much safer. Such a show can be very effective. Especially if there are many participants in it.
A slightly more extravagant idea, and at the same time much more expensive, will be to organize a fireworks show, i.e. fireworks. However, there are some limitations to this. First, the weather has to be right. Secondly, the wedding hall should be located away from other buildings so as not to pose a threat. Organization of weddings Wrocław, thanks to the proximity of the Karkonosze Mountains, offers favorable conditions to make all dreams of future spouses come true.
How to choose a wedding hall?
Choosing a wedding hall is one of the key decisions when organizing a wedding. To organize a unique wedding reception, you will also need a unique wedding hall. So what wedding venues should you choose for your initial research? The offer of wedding houses is so rich! He can search the net - enter the phrase 'wedding halls in Lower Silesia' and see what offers will show up. If you are planning a wedding, then wedding venue websites can certainly help in choosing a wedding venue. And above all, the number of visits to these pages. Then you can see whether a given room is popular or arouses interest.
Lower Silesia is a region where you can find many beautiful and diverse places to organize a wedding. Depending on the preferences and requirements of the Bride and Groom, you can choose from many options, such as: climatic mansionscastles, luxurious palaces, elegant hotels, cozy wedding halls, tasteful restaurants and outdoor places with a view of the mountains.
Before deciding on the choice of a place to organize a wedding, it is worth thinking carefully about your needs and making sure that the chosen place meets all our requirements. For example, accommodation for guests - elegant wedding halls in the center of Wrocław rarely also offer rooms for guests. And when we know how many people will stay for the night, it is worth choosing a wedding hall that provides accommodation for all wedding guests in one building. This is the most convenient way, besides it is conducive to the integration of guests from both families and friends.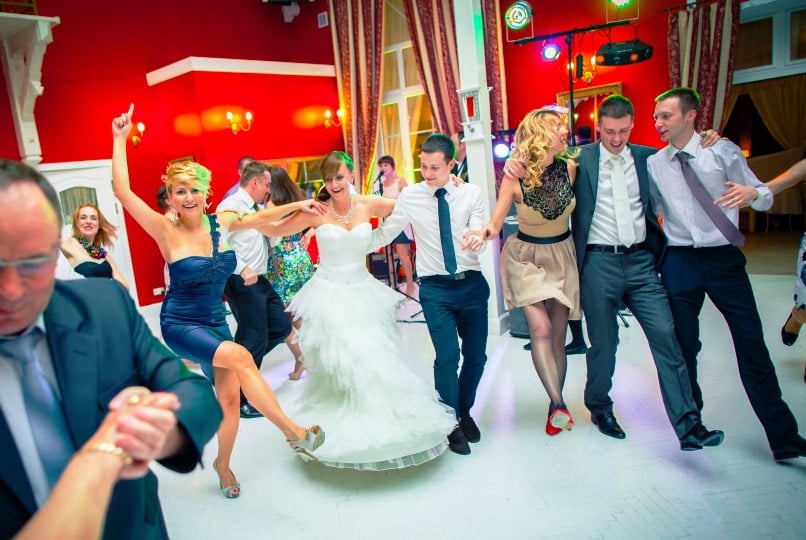 Wedding dinner wedding around Wroclaw
The wedding dinner is an important part of any wedding, which usually takes place after the wedding ceremony and is one of the main points of the agenda. Traditionally, a wedding dinner consists of several dishes, including soup, meat, fish, salads, appetizers and desserts. However, more and more often the menu is more diverse, depending on the region where the ceremony takes place. During a wedding in the vicinity of Wrocław, for example in the Karkonosze Mountains, you can offer local delicacies that have been popular in this area for centuries.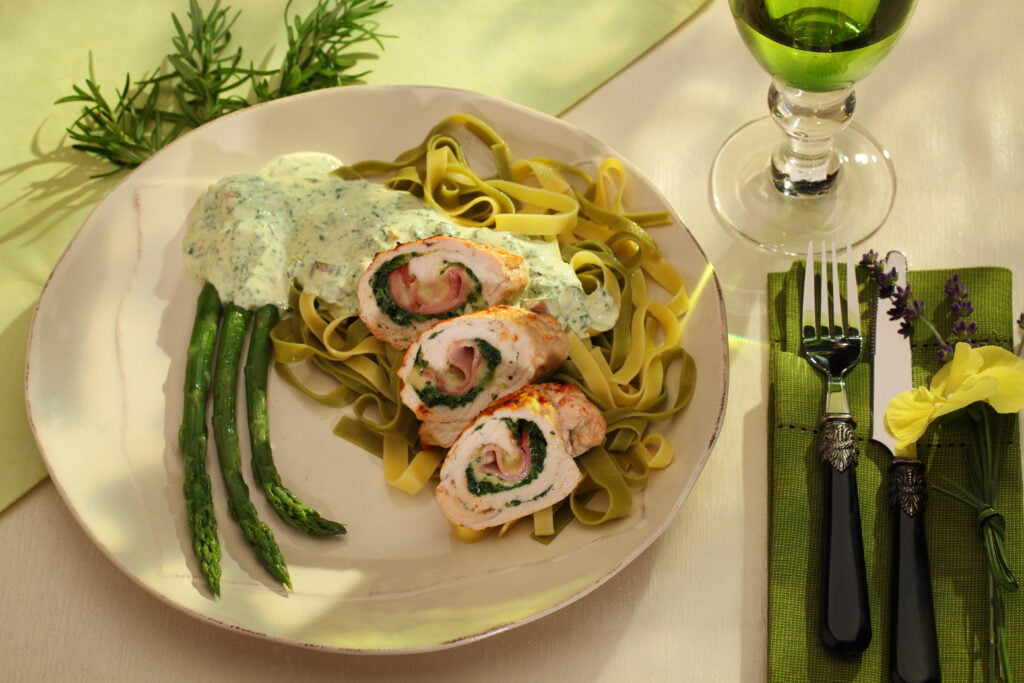 Classic Karkonosze cuisine includes kyselo, a sourdough soup, cooked with plants from the Karkonosze meadows, as well as Karkonosze ukopi, i.e. garlic soup. For the second course, you can serve sejkory, a type of potato pancake with sour cream, or Jizera dumplings stuffed with beef, and hubnik, a type of millet casserole with mushrooms. As part of the wedding buffets, you can serve tasty fish from the Karkonosze streams and cheeses, traditionally made from sheep's and cow's milk, seasoned with herbs. And for dessert, gingerbread from the Karkonosze Mountains with caramel rosehip caramel, acorn flour and sea buckthorn. Guests will certainly be happy to try new dishes and enjoy the original menu. After all, what does broth, pork chop or chicken fillet or dumplings taste like, as well as cheesecake or cider – most often served during weddings in Poland - everyone knows. A wedding dinner in a regional style will remain in the guests' memory for a long time.
Wedding house Wroclaw and the surrounding area
The wedding house is a place that specializes in organizing weddings. It is usually a building with several rooms, providing space for a wedding reception. A wedding house can offer a full range of services related to the organization of a wedding, such as catering, decorations, music, service and many others.
Compared to other places, such as restaurants or hotels, a wedding house is often chosen by young couples due to its specialization in organizing weddings and the fact that it provides the entire package of services needed to organize a successful wedding. In addition, the wedding house can also offer accommodation for guests, which is especially important when the wedding takes place in a town where you need to get to. The wedding house can also provide ceremonies related to the wedding ceremony, such as a civil or humanist wedding, which makes the organization of the wedding more comprehensive.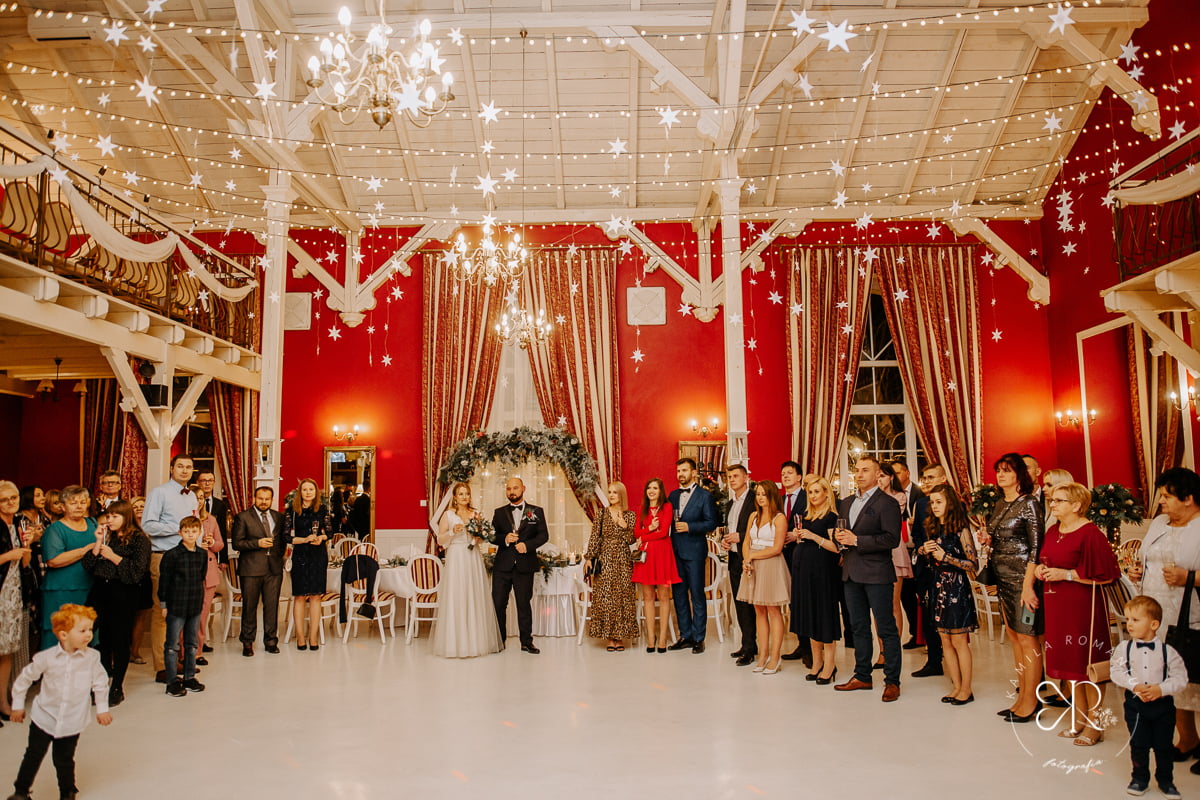 Wedding in the vicinity of Wrocław - an unforgettable wedding in the heart of the Karkonosze Mountains
wedding halls Wrocław and the surrounding area are becoming more and more popular, especially among couples who want to experience the greatest adventure of their lives in a unique and unforgettable way. The key to success is finding the right place that will allow us to fulfill our most hidden dreams. Each wedding hall in Wroclaw can certainly boast many advantages, but nowadays the most important thing is that the facility is fully comprehensive. What does it mean?
Everything counts, from help in organizing the party itself, to composing the menu and choosing additional attractions. When we find all these elements in one place, we can consider ourselves lucky. Located not far from Wrocław, Dwór Korona Karkonoszy is an extraordinary place. Thanks to many years of experience in the industry, experts from Dwór Korona Karkonoszy will easily meet all requirements, even the most unusual ones. Therefore, the facility is ideal as a place where we can successfully organize a wedding party in any style.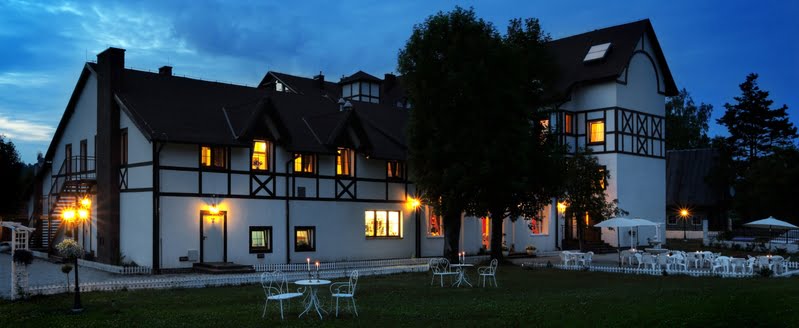 Tasty food is also an indispensable element of every wedding. This tradition comes from the old days, when the tables at old Polish weddings were bent under the weight of dishes. Wedding house Wroclaw this is one of the possibilities. It is also worth looking for something outside the city. A place located in beautiful scenery and offering the most delicious cuisine in the entire Karkonosze Mountains. Could there be a better option for a successful wedding!
What other details play an important role when choosing a wedding venue? Of course, the room is very important. It should accommodate a certain number of guests, providing them with convenient conditions for both fun and rest. Rent is welcome rooms, so that after all-night fun you will be able to rest and only the next day to go back home. Of course, nothing stands in the way of extending your stay a bit more and taking advantage of even a few days of carefree relaxation in the bosom of nature.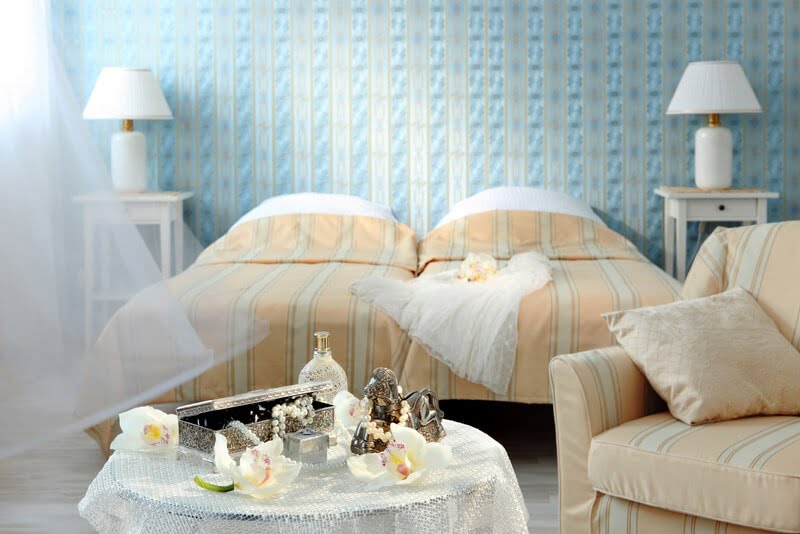 Banquet hall Wrocław - is it the perfect place for a wedding?
The bride and groom looking for romantic wedding halls located in a quiet area are increasingly heading towards the majestic Karkonosze Mountains. These areas are extremely charming, so it's no wonder that they attract residents from both far and near. However, choosing a place for a wedding is not only about beautiful areas around. What counts above all is the proven quality of service. In this case, it is worth getting acquainted primarily with the opinions of other couples who use the services provided by wedding house Wroclaw have had the opportunity to use. The facilities located in the Karkonosze Mountains are mainly characterized by an atmospheric design, combining tradition with modernity. These places often have a rich history, unique architecture and a team of real experts on board, ready to help in any situation.
CTA block
Where to organize a magical wedding?
At Dwór Korona Karkonosze - A Place of Special Moments!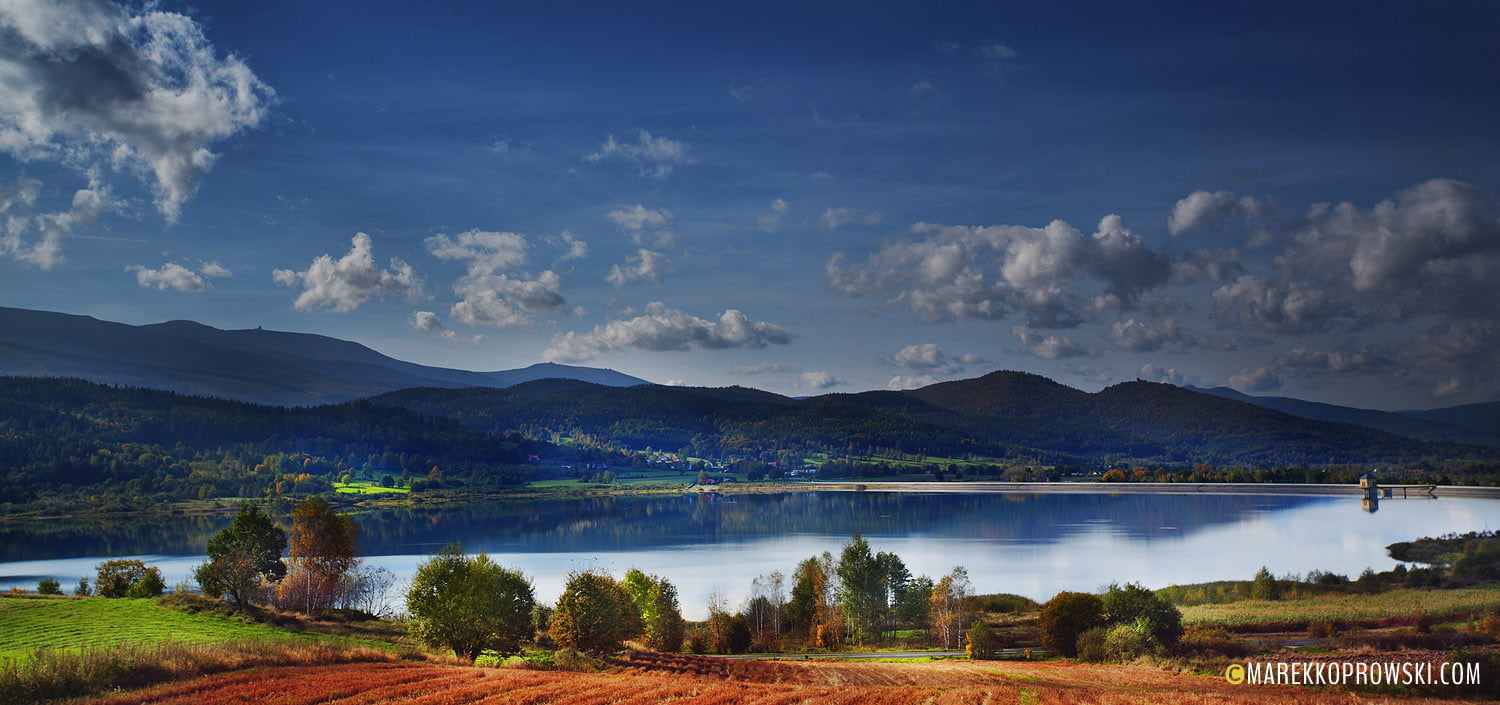 The Wrocław banquet hall should provide space for a certain number of guests, which is why it is the first element that the future bride and groom should pay attention to. Extremely helpful, already at the stage of searching for a suitable hall for a wedding, is the possibility to contact the facility's staff, which will provide us with detailed information on its functioning. It is also important whether the room is equipped with air conditioning, which is necessary especially in hot summer months, and the ability to heat the room on cold winter days.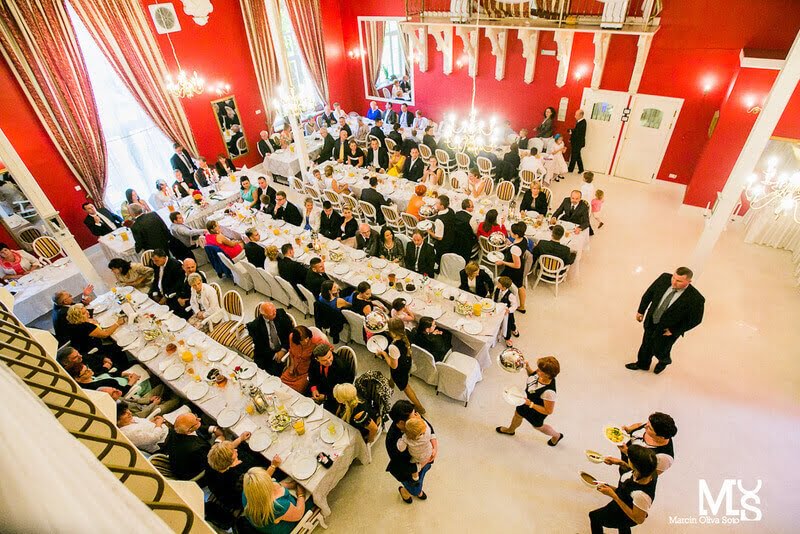 For many couples, the ability to freely choose is also important table settings and individual decoration of the room. Refining all the details is extremely important. The wedding hall in Wrocław must be perfect and meet the expectations of the newlyweds. Usually, however, in addition to pluses, it also has minuses. Nevertheless, sometimes it is possible to find a room that perfectly fits the taste and style of the Bride and Groom. It is an absolute hit and does not require any special decorations. Most often, such places reflect the classic style.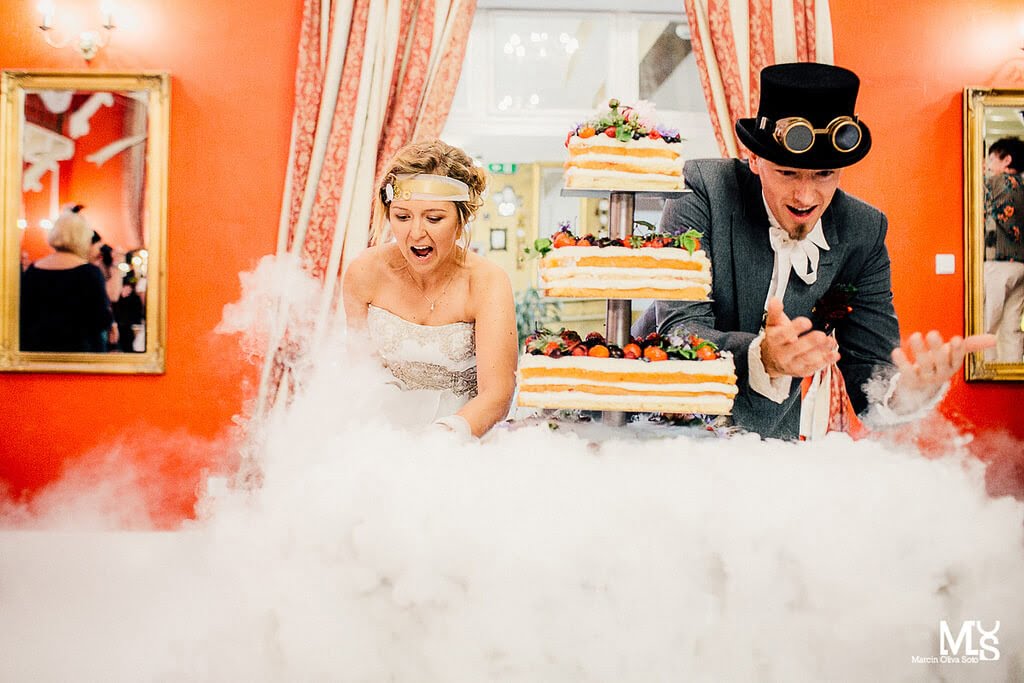 To sum up, a wedding in the vicinity of Wrocław can be extremely magical. The region delights us with the diversity and beauty of nature. What's more, there are plenty of great wedding venues, suitable for small and large parties. Every couple will surely find the perfect place for their own in Lower Silesia dream wedding.
Frequently Asked Questions
What should you look for when looking for a wedding hall?
There are certainly a few important issues that are worth paying attention to in the first place. If you care about a specific wedding date, it will largely determine the choice of venue. It is worth paying attention to the style and decoration of the wedding hall. It's good when the interiors are beautifully decorated and atmospheric. Another issue is the number of invited guests. This element is also important when choosing a wedding venue. Just like your budget. You need to check what are the costs of renting a room, catering, waiter service, as well as any additional services. It is also worth making sure that all costs are clearly stated and that there are no hidden fees. Usually, wedding halls also offer catering services, so it is worth paying attention to the quality of the food and the variety of the menu. It should also be remembered that many wedding venues require the use of a catering offer from a given supplier, which may affect the choice of venue. It is also worth paying attention to what additional services a given wedding hall offers. Is it possible to rent decorations, a music band or a photographer? Does the hall offer accommodation for guests? As you can see, there are many factors to consider when choosing a wedding venue.
Where to organize a wedding in Wrocław?
Wrocław offers many places where you can organize a wedding. Depending on the preferences and requirements of the bride and groom, you can choose between various options, such as elegant wedding halls, castles, palaces, hotels or restaurants. These are just a few of the many possible options. It is worth doing a thorough research and choosing a place that best suits the tastes and budget of the bride and groom. You can also look for a wedding hall in the vicinity of Wrocław, for example in the Valley of Palaces and Gardens. The Jeleniogórska Valley is a wedding and event hub, we will find there a lot of facilities ideal for organizing weddings and receptions, also in the open air. For example, Dwór Korona Karkonoszy in Sosnówka near Karpacz has been organizing weddings with a view of the mountains for several years.
Who pays for the wedding?
According to tradition, the bride's family bears most of the expenses. However, many modern couples share the expenses equally. Often the newlyweds finance the event from their own savings, organizing the wedding and reception according to their own scenario. In the event that the parents of the bride and groom finance the wedding, the decision on what its costs will depend largely on their financial capabilities. Often, the wedding financed by parents is larger and more impressive.
How to organize a wedding and reception?
You probably want your wedding day to be the most beautiful day of your life. Nothing can go wrong and you want to prepare everything with attention to every detail. It's a laborious task. It is worth considering using the help of experts who will take care of everything at a master level. Wedding date, choice of ceremony venue, choice of wedding venue, design of invitations, decorations, menu and drinks, music and additional attractions, photographer, transport - organizing a wedding and reception requires a lot of time and attention. A professional wedding manager will save us time, money and, above all, nerves by dealing with these tedious arrangements.
How much does a wedding in Wrocław cost?
The cost of a wedding in Wroclaw depends on many factors, such as the number of guests, venue, wedding style, quality of food and drinks, and other additional services such as decorations, photography, music, etc. It is worth remembering that the cost of a wedding can vary significantly depending on on the preferences and requirements of the bride and groom and other factors such as the season or day of the week. Before deciding to organize a wedding, it is worth carefully considering your needs and choosing offers tailored to your budget.
An intimate wedding in Wrocław and the surrounding area?
If you are looking for a place for an intimate wedding in Wrocław, it is worth considering a few suggestions. Wrocław offers many beautiful and unique places that can be perfect for a small but extremely charming wedding reception. Charming hotels, pleasant restaurants, cozy banquet halls - an intimate wedding full of charm and intimacy, with excellent dishes and unusual decorations will certainly be organized in Wrocław or in the vicinity. Even in the magical Karkonosze Mountains, very popular among young couples due to the unique climate of mountain weddings.