Szklarska Poręba is nearby Karpacz the most famous mountain resort in the Karkonosze Mountains. The place attracts tourists with its unique atmosphere, wonderful panoramas and numerous mountain trails.
Szklarska Poręba – history
The town owes its name to glass production. Hence the first part of the name. The first steelworks of this type began operating in Szklarska Poręba already in the 14th century, or maybe even earlier. And for the steelworks to function, a lot of wood was needed, so large-scale logging began. Hence the second part of the city's name.
Apart from glass workers newcomers from Western Europe liked these areas - Walloons, "treasure" hunters, i.e. ores and minerals. To this day, in Szklarska Poręba and the surrounding area, you can find excavations, shafts and boulders marked with mysterious symbols left by them. Moreover, in local restaurants we can find regional cuisine inspired by the dishes they prepare.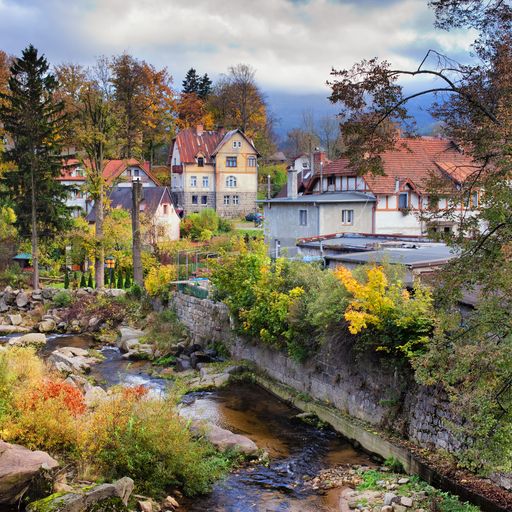 They also eagerly came to Szklarska Poręba from the end of the 16th century laboratory technicians i.e. producers of herbal medicines, experts in herbal medicine. Most often, they were Czech evangelicals. Mountain meadows and forests, rich in medicinal plants and herbs, were an excellent base for the production of medical preparations.
CTA block
Wedding reception, party company or with friends?
Dwór Korona Karkonosze invites you!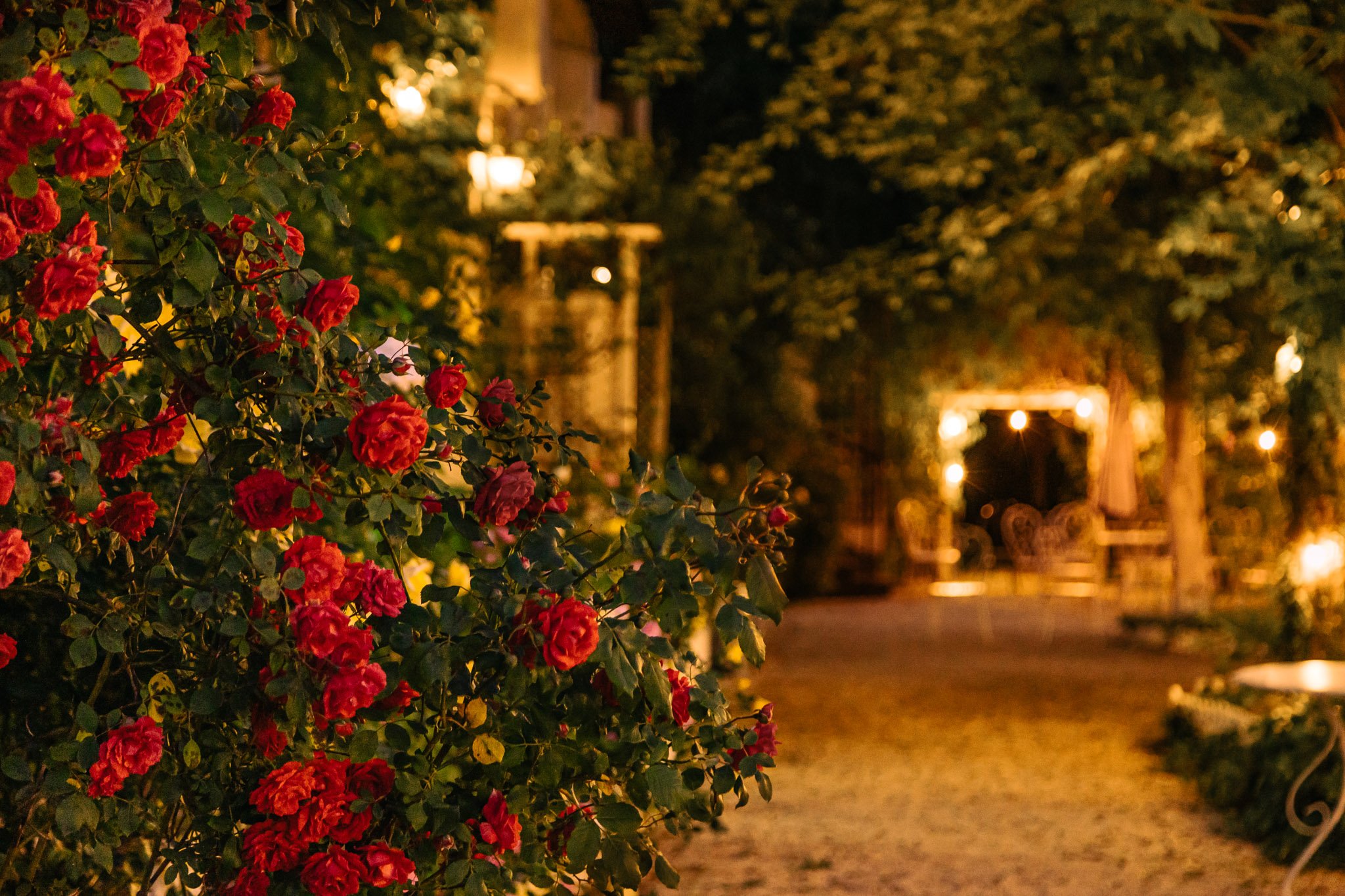 Since the end of the 19th century, Szklarska Poręba has been eagerly visited and inhabited by representatives of the world of culture, art and science. Currently, Szklarska Poręba is a famous place for winter and summer sports. Especially since there is a specific microclimate here, which favors long-lasting snow cover. The city attracts skiers and cross-country skiers, snowboarders, climbers, trekkers, mountain bikers, but also ordinary tourists who want to enjoy the beauty of the mountains.
Szklarska Poręba – location
Szklarska Poręba is located in the Karkonosze district, in the Kamienna River valley, at the foot of Szrenica. This is where two mountain ranges meet, i.e Jizera Mountains and Karkonosze. The city is dominated by Szrenica, located at an altitude of 1,361 m above sea level. The climate of Szklarska Poręba encourages winter sports, as it is similar to the Alpine climate.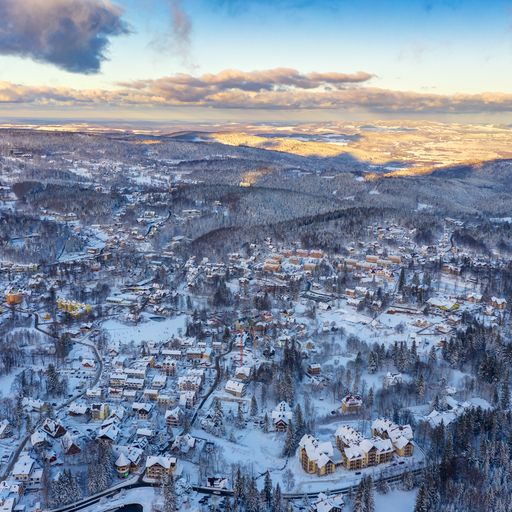 Szklarska Poręba – tourist trails
There are several routes through Szklarska Poręba interesting hiking trails. The Walloon Trail, the Magic Trail of the Spirit of the Mountains and the Large Sztaudynger Tourist Route allow you to see the most interesting points in the area, for example the Szklarka Waterfall, the Old Walloon Cottage, Chybotek, Zakręt Śmierci, the grave of the Spirit of the Mountains, i.e. the Karkonosze Mountains, the Puchatek ski slope or the Kamieńczyk Waterfall.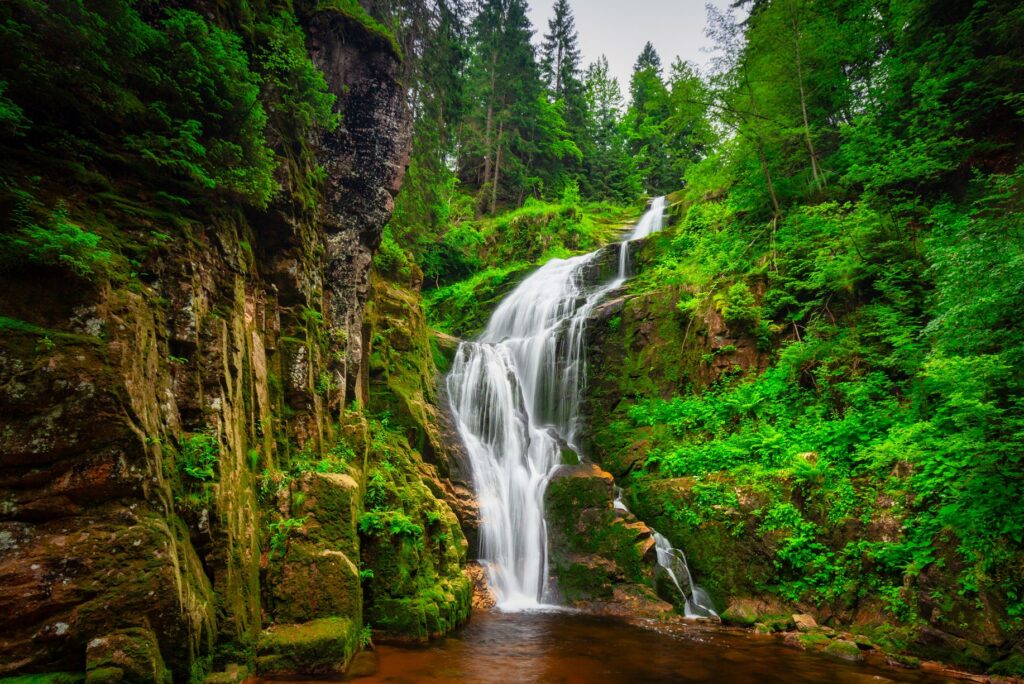 It is certainly unique in the country Large Sztaudynger Tourist Route, or a journey with epigrams, as it is devoted to the literary works and the person of Jan Sztaudynger, a famous Polish satirist and humorist. The route leads through places associated with it. The Large Sztaudynger Tourist Route is a great way to combine travel with literature and culture and to learn about the heritage of one of the most important Polish humorists. The entire route takes approximately 8-10 hours, but you can stop the hike at any time because the trail runs around the city.
The route starts at Jan Sztaudynger's house at 1 Maja Street, number 55. It runs through: Chata Walońska, Szronowiec forester's lodge, Puchatek ski slope, Kamieńczyk Waterfall, Glassworks, Wysoki Kamień, the rocks of the Bell Tower, Death's Bend, Chybotka, Złoty Widok up to the Szklarka Waterfall.
Szklarska Poręba tourist routes
On the other hand Walloon Trail – named after the former inhabitants of these lands – starts in Szklarska Poręba Dolna at the Church of Our Lady of the Rosary, then runs next to Lipa Sądowa, near Huta Szkła, through the Kamieńczyk Valley, then goes through the Szklarki Waterfall, the Walloon Cottage, the Earth Museum, the Hofman Museum , Złoty Widok, Grób Karkonosz, next to Chybotek and back to the starting point. The entire route should take approximately 3.5 hours.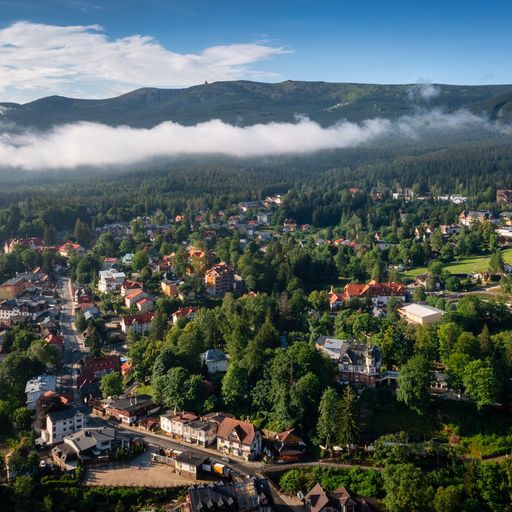 Magic Trail of the Mountain Spirit it starts in Leśna Huta. Then it stops at the Karkonosze Center for Ecological Education, Krucze Skały, then leads through Szrenica and Zakręt Śmierci, through Skałki Karczmarz, Złoty Widok, Chybotek, Lipa Sądowa, Wodospad Szklarki, up to the Walloon Chata.
Szklarska Poręba how to get there?
Szklarska Poręba it is well connected with the rest of the country and with its Czech neighbors. It can be reached by various means of transport. The most common means of transport to Szklarska Poręba is a car. The city is located near the S3 expressway. You can also get there by national roads. Szklarska Poręba it is well marked, and GPS navigation will allow you to easily reach the place. You can also reach Szklarska Poręba by train. The city has as many as 5 railway stations and stops. And a trip on the Jizera Railway can be an attraction in itself, because the route is very picturesque.
There are also many transport companies offering bus connections to Szklarska Poręba from various cities in Poland. This is an option for people who do not want to travel by their own car. The nearest international airport is Wrocław Airport, approximately 150 km from Szklarska Poręba. From the airport you can take a train, bus or rent a car. If you are a bicycle lover, there are also bicycle trails leading to Szklarska Poręba. This is, of course, an option for people who like active recreation.
It's worth checking availability and schedules before traveling, especially during the summer and winter seasons Szklarska Poręba is visited by many tourists. It's also worth remembering weather conditions, especially if you plan to travel in winter, when the mountains may be covered with snow.
Corporate events in the mountains
Organization parties company in the mountains can be a great way to strengthen relationships between employees, integrate the team and provide unforgettable moments in a natural and beautiful environment. Find the right location that will meet your company's needs. It may be a mountain conference center or a hotel in the mountains. Make sure the venue has adequate facilities to host business meetings and provides comfortable accommodations.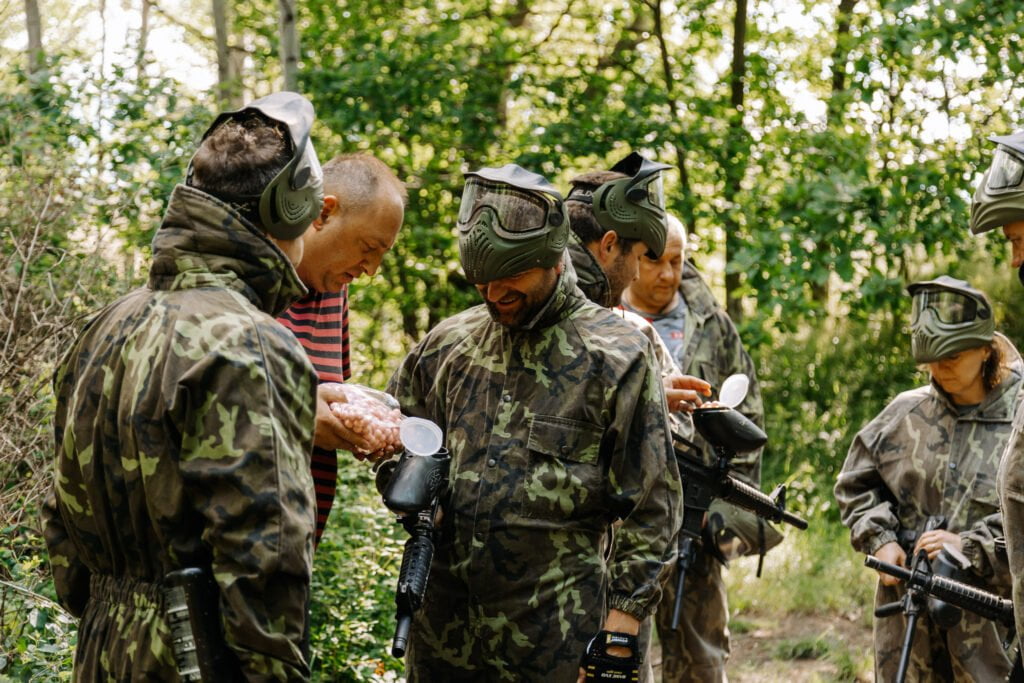 Szklarska Poręba and Karpacz are the most famous resorts of the region, but also smaller towns, for example Sosnówka, have a lot to offer when it comes to the event business. Charming mountain towns offer many opportunities for outdoor activities such as hiking, skiing, mountain biking, car rallies or mountain tours. It's a great way to integrate your team and create positive memories. In the mountains, you can easily conduct various types of exercises and team building games that will help integrate the team and improve cooperation. You can also organize an outdoor barbecue or the much-loved outdoor picnic.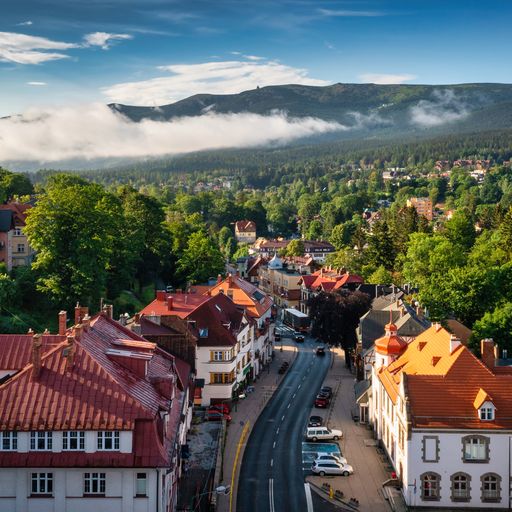 Attractions of Szklarska Poręba
When it comes to natural attractions, there are two wonderful waterfalls near Szklarska Poręba: Kamieńczyk waterfall (27 meters high) and Szklarki Waterfall (13.3 meters high). Both attract crowds of tourists, just like Golden View, a viewing point located near the Szklarka Waterfall over a 20-meter rock cliff.
surrounding peaks, Szrenica (1362 m above sea level) or Tall Stone (1058 m above sea level) offer wonderful panoramas of the mountains and the Jelenia Góra Valley. AND Snow Cauldrons it is an almost legendary place - considered by mountain lovers to be one of the most beautiful places in Poland. You must see this majestic, 200-meter cliff.
It is also a great tourist attraction Wobbly. It is a group of granite rocks, of which the tallest boulder, 4 m in diameter, is supported only in two places. So every tourist tries to rock Wobbly.
Szklarska Poręba sightseeing
Another attraction may be the access to Szklarska Poręba. One of the roads leads through the famous Death Bend. This is a very dangerous turn with a radius of 30 meters (almost 180'), at an altitude of 755 m above sea level, between Szklarska Poręba and the Świeradów Zdrój health resort. Despite the danger, it is worth choosing this route, as it offers a picturesque panorama of the Karkonosze Mountains and a wonderful view of the city.
When in Szklarska Poręba, it is a must-see Crystal Glassworks Julia to watch the process of creating crystal glass and possibly purchase handmade products. In turn, in Mineralogical Museum, located in a beautiful building, a typical specimen of Karkonosze architecture, we can see many interesting exhibits, including crystals, but this time created by Nature, not by man.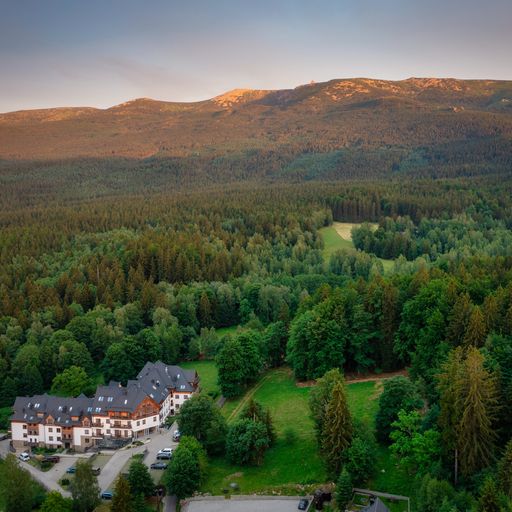 A wedding in the mountains
A wedding in the mountains is a unique way to celebrate this special day in the life of the bride and groom. Organization weddings in the mountains it can provide unforgettable memories and provide a beautiful backdrop for the event. Szklarska Poręba, Karpacz or located on deluge Sosnówka are charming mountain resorts that offer many charming places to organize weddings. Mountain resorts, hotels in the mountains, beautiful glades, gardens, manor houses, palaces or hunting lodges - choose a place that will meet your expectations. It is worth booking the date well in advance, especially if you are planning a wedding in a popular place, for example at Dwór Korona Karkonoszy and the so-called high wedding season.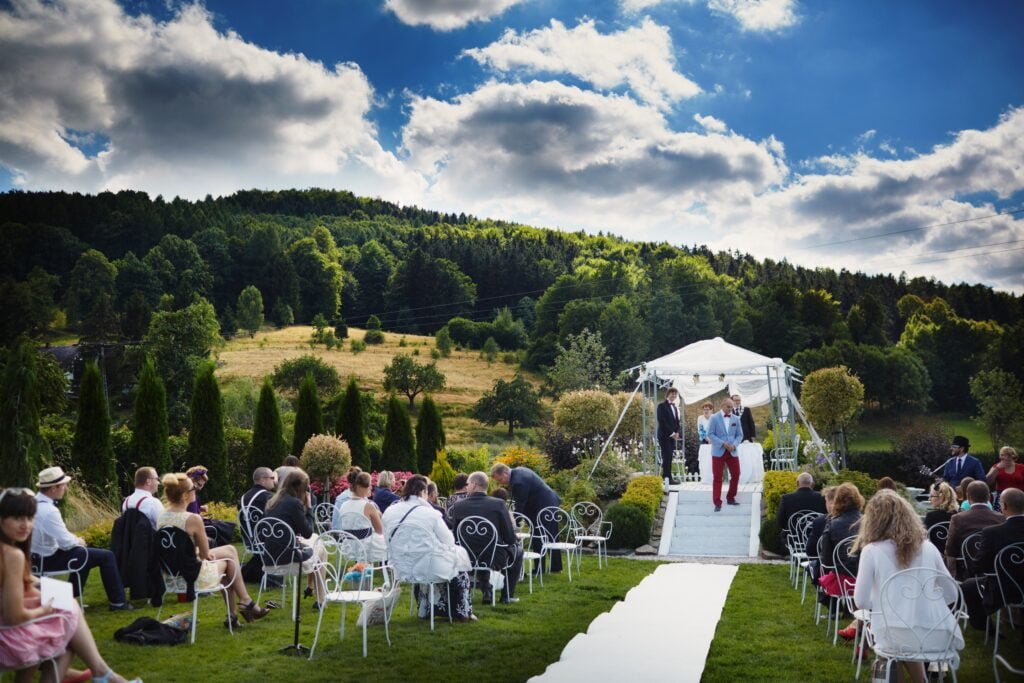 Use the natural beauty of the mountains as a backdrop. You can add some flowers, lanterns or candles to create a romantic atmosphere. A wedding in the mountains, especially an outdoor wedding, can be decorated in a boho, rustic or folk style. Choose a photographer who will be able to capture the beauty of the mountains and the emotions accompanying these special moments. A wedding with a view of the mountains will look great in souvenir photos and films.
Architecture of Szklarska Poręba
The architecture of Szklarska Poręba reflects various historical periods. There we will find beautiful, 19th-century villa residences, as in that period Szklarska Poręba it became a popular vacation spot for wealthy residents of German cities, which led to the construction of numerous villas. These beautifully decorated buildings often survive to this day and form an important part of the city's architectural heritage. In the city center you can find many tenement houses and residential buildings from the early 20th century, which have characteristic architectural features of that period - decorative facades and balconies. Some of them, along with part of the city from the turn of the 19th and 20th centuries, were entered into the provincial register of monuments. In some parts of Szklarska Poręba you can find traditional wooden cottages and summer houses that are typical of this mountain region. There are also various religious buildings in Szklarska Poręba, which are often beautifully decorated and constitute an important element of the city's landscape.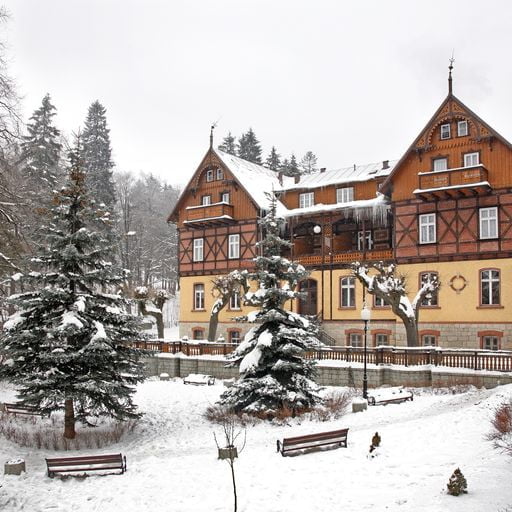 An interesting place for architecture lovers, that's for sure Norwegian Valley.It consists of houses built at the end of the 19th century for people of culture and art who began to visit these areas in large numbers, popularized by famous writers, brothers Gerhart and Carl Hauptmann. Villas in the Norwegian Valley have shapes and decorations typical of this region. The interiors of the buildings also have a traditional Norwegian character.
In addition to historical buildings, Szklarska Poręba is developing as a tourist destination, which contributes to the creation of modern buildings such as hotels, guesthouses and recreational facilities. Overall, the architecture of Szklarska Poręba is diverse and offers a mixture of historic and modern elements, which makes the city attractive to both history lovers and those who value modernity and comfort.
Szklarska Poręba for a bike ride
Szklarska Poręba and the surrounding area offer many wonderful bicycle routes that attract mountain biking and trekking enthusiasts. In total, there are as many as 19 marked bicycle routes, covering a total of 450 km. The routes vary in difficulty, so both less skilled cyclists and experienced competitors will find something for themselves. They range from 8 to 50 km long.
The most famous bicycle routes in Szklarska Poręba are: Pętla Trzy Jawor (9 km); Three Districts Connector (9 km); Artistic Route (12 km); Mała Szklarska Pętla (13 km); The Jizera Society route (18 km); Karkonosze kspres pod Reglami (19 km); Radio Three route (20 km); Two Rivers Loop (30km); At the foot of the Wysoki Grzbiet – Plane (35 km); Interferia Route (48 km); Cogeneration Route (50 km).
Before leaving, familiarize yourself with the routes and terrain conditions. It's also a good idea to always have the necessary equipment with you, such as a helmet, a drink and bike repair tools.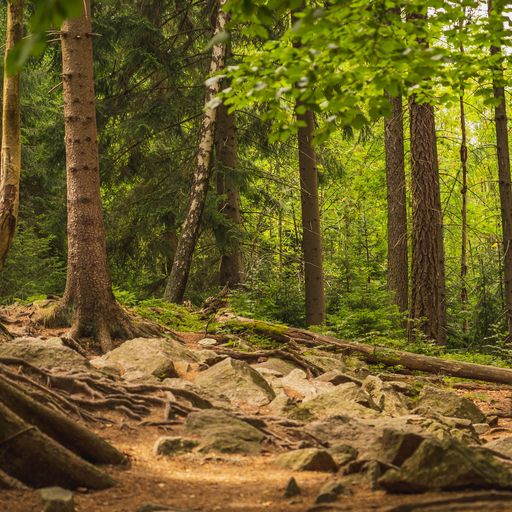 Szklarska Poręba for children
Szklarska Poręba This is definitely a good place to relax with children. Holidays, breaks or long weekends in such attractive surroundings are pure pleasure. Where to take children in Szklarska Poręba? Of course, for mountain hikes, at any time of the year. Especially since there are also educational and nature trails. In winter it is a paradise for skiers.
Worth a visit Esplanada Family Amusement Park, where there are attractions such as a gravity train, the Tower of Emotions or Laser Bumpers and a maze. It will definitely be interesting too exhibition of LEGO bricks, covering over 300 m2. IN Dinopark of course, you will find dinosaurs, a train, inflatables and many other attractions. The rope park is located in the very center of the city - Trollandia it's great entertainment for older children.
You can still enter with children ski lift to Szrenica – the almost 40-minute ride is a real attraction not only for the youngest. Also a ride Jizera Railway will be a great adventure for children. This picturesque railway trail runs from Jelenia Góra, through Szklarska Poręba, to Korenov.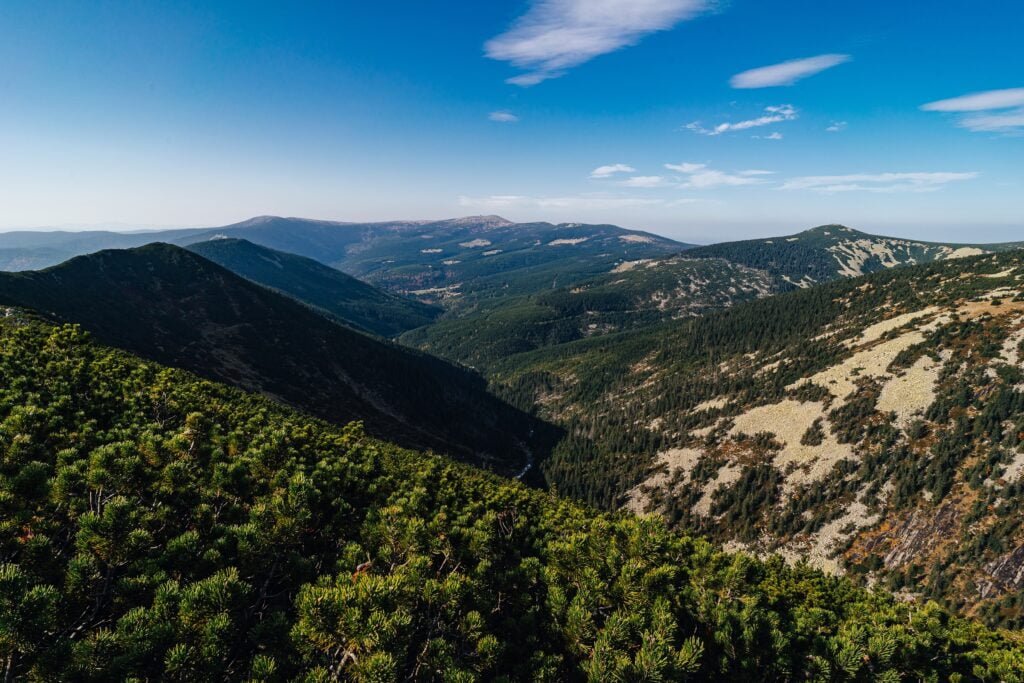 Mountain Spirit Park this is another place that will surely delight children. In this garden you will find thematic houses - Aquarius's cottage, Zielarka's Rzepichy and others, all surrounded by wonderful nature.
if we want go back to the times of Walloon gold prospectors, worth going to Walloon Cottage and Walloon Iron Crucible. This is an open-air museum where we can see replicas of medieval mining and metallurgical machines. The visit will also have educational value Juna Earth Museum, where you can see minerals and valuable and rare aggregates. AND Karkonosze Center for Ecological Education will introduce children to the nature of the Karkonosze Mountains.
Many hotels and guesthouses in Szklarska Poręba offer facilities for children, such as playgrounds, swimming pools, board games and animations, which makes a visit to this region even more family-friendly.

Accommodation Szklarska Poręba
Like any highly successful mountain resort, Szklarska Poręba offers plenty of accommodation for every budget and taste. Elegant hotels, budget hotels, modern apartment buildings, holiday homes, cozy guesthouses, charming manor houses and manor houses, historic villas, inns and campsites - there is plenty to choose from. The easiest way to find accommodation that suits you is online, on one of the websites. Although, of course, during the high tourist season it is better to book rooms in advance, because crowds of tourists come to Szklarska Poręba. This place is also popular among young couples, because weddings in the mountains are currently very fashionable. Other than that, a lot parties corporate events take place in Szklarska Poręba, which may also affect the availability of accommodation.
Where to eat in Szklarska Poręba?
In Szklarska Poręba you will find many restaurants, cafes and catering places that offer a variety of dishes. In the very center of Szklarska Poręba there are many restaurants serving Polish cuisine - you can try traditional dishes such as dumplings, borscht or pork chop. In addition, you will also find restaurants offering dishes from world cuisine, such as Italian, Chinese or Mexican.
As Szklarska Poręba is located in the Karkonosze Mountains, you can find many restaurants and inns in the highlander style here. They often serve regional dishes. If you are a skier or snowboarder, it is worth paying attention to restaurants on the ski slopes where you can regenerate during a break from skiing. If you are looking for something quick and more affordable, you will also find fast food places in Szklarska Poręba. And if you are a lover of desserts and coffee, visit one of the cafes and pastry shops where you can taste delicious cakes and drinks.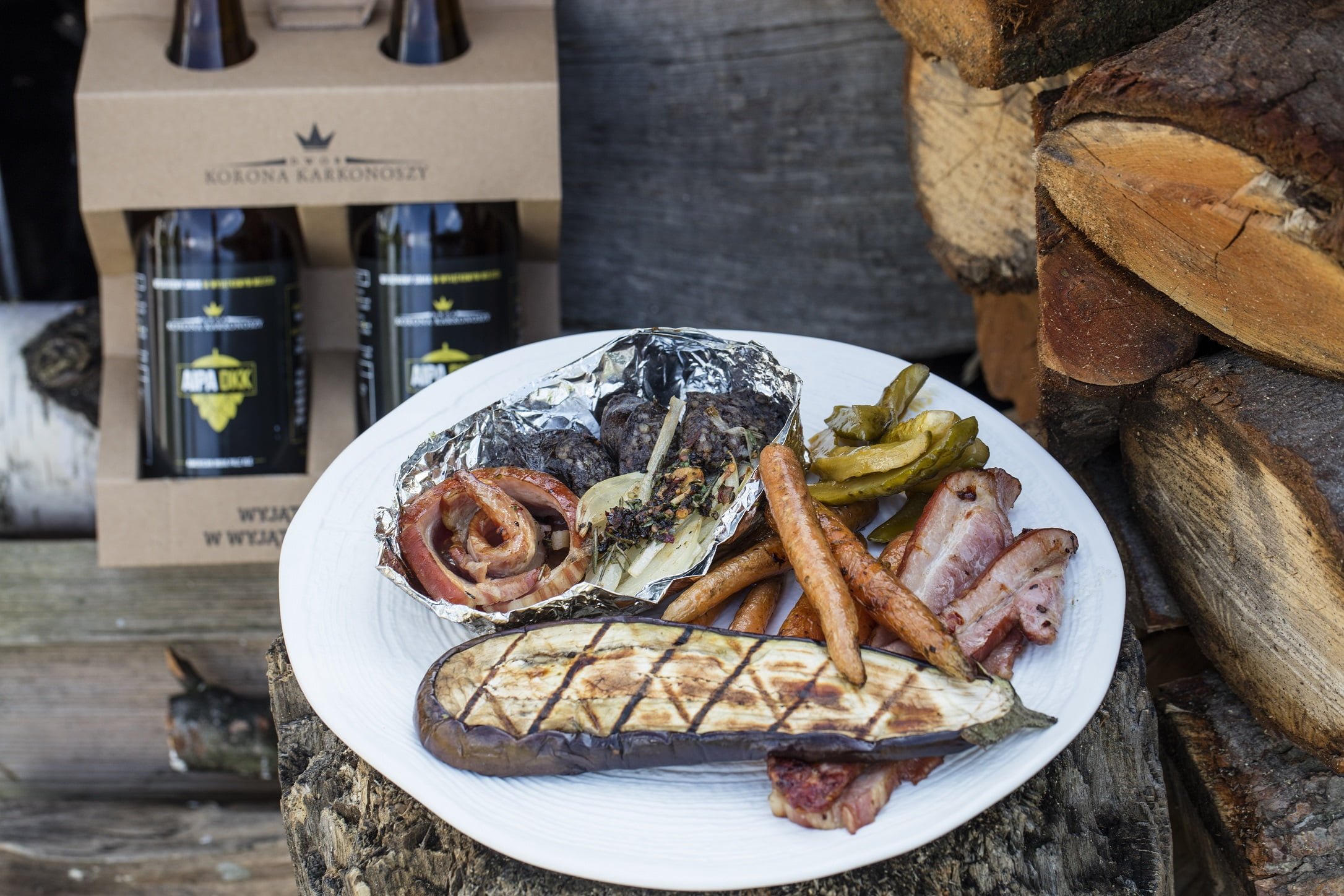 What to do in Szklarska Poręba?
Szklarska Poręba is a beautiful town in the Karkonosze Mountains, which offers many attractions and activities both in summer and winter. Winter Szklarska Poręba attracts skiing and snowboarding enthusiasts. You can enjoy various ski slopes as well as ski schools for beginners. If you are a cross-country skiing enthusiast, you will find many routes near Szklarska Poręba, including the Jakuszycka Glade. If you are not a skier, you can take the cable car to Szrenica, from where there is a beautiful view of the mountains and the surrounding area.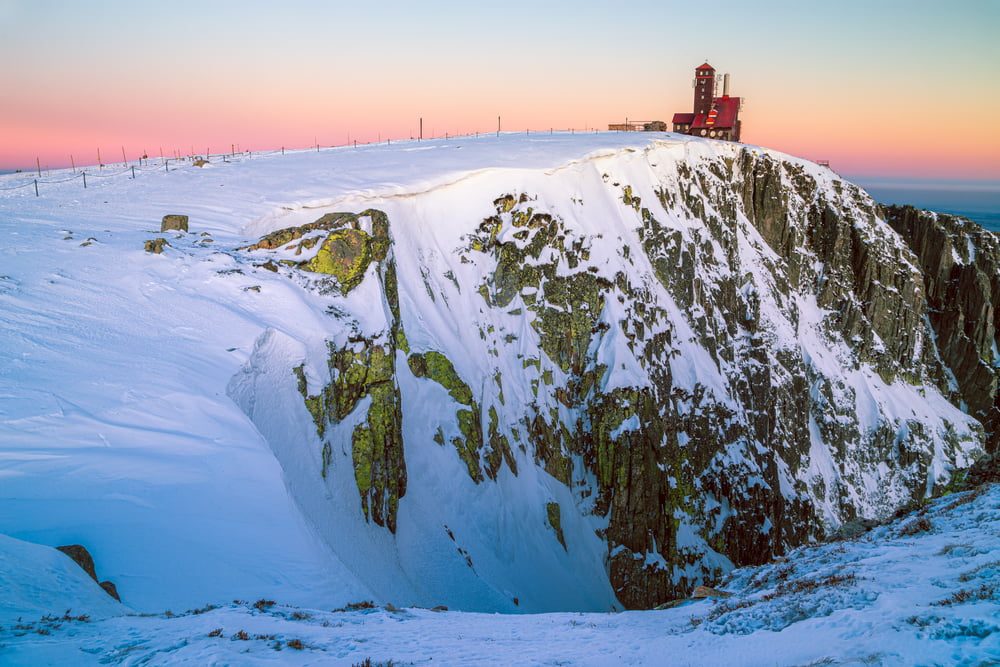 In turn, in summer, Szklarska Poręba becomes a paradise for mountain bike enthusiasts. There are numerous bicycle routes of varying difficulty. The Karkonosze Mountains offer beautiful hiking areas all year round. Karkonosze National Park it's really vast. You can go hiking in the mountains, visiting places such as the Kamieńczyk Waterfall and Śnieżne Kotły.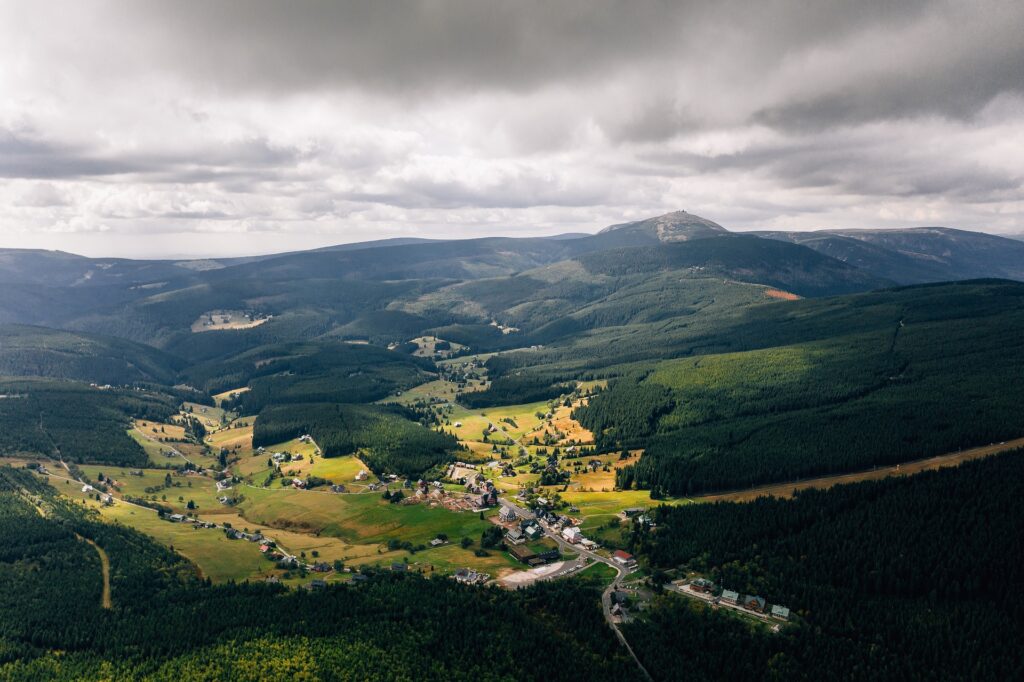 Visiting tourist attractions is another interesting activity. In Szklarska Poręba there is the Mineralogical Museum, the Dinosaur Park and many other interesting places. You can also visit nearby Jelenia Góra, the capital of the region. Szklarska Poręba has a charming center with numerous shops, restaurants and cafes. Walking along the main street is also a pleasure.
Szklarska Poręba for skiers
There are several ski lifts in Szklarska Poręba that provide access to various ski slopes and ski slopes. This is one of the largest ski resorts in the Polish Karkonosze Mountains. It is worth mentioning that this region has excellent climatic conditions for skiing, similar to those in the Alps. Long-lasting snow cover favors winter sports. Before going skiing to Szklarska Poręba, it is worth checking the availability of ski lifts and snow conditions to make sure that you will be able to enjoy winter sports on these slopes.
Szklarska Poręba ski slopes
There are many ski slopes and downhill slopes in Szklarska Poręba, which attract both beginner skiers and advanced winter sports enthusiasts. The most famous ones are located on the slopes of Szrenica. There are a total of 5 slopes with a total length of over 10 km. FIS is a very difficult route, Lollobrigida and Śnieżka are difficult routes, and Puchatek and Hala Szrenicka are easy. The trails on Szrenica offer wonderful views of the surrounding mountains.
In Szklarska Poręba itself and the surrounding area, there are also some shorter ski routes on the slopes of smaller hills, for example on the route towards Jakuszyce. In total, skiers can use about 20 km of ski slopes in this area.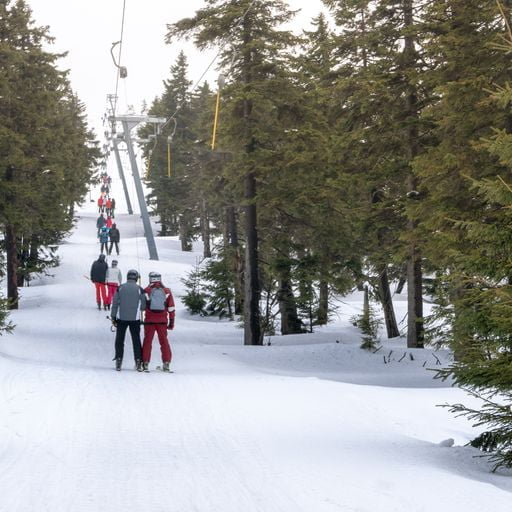 Szklarska Poręba ski lifts
Lovers of winter sports can use one of 19 ski lifts, mainly T-bar ski lifts. Five of them are located on the slopes of Szrenica. Here are some of the main ski lifts in Szklarska Poręba: Ski Arena Szrenica, Ściana, Hala Szrenicka, Świąteczny Kamień, Biała Polana, Wesoła Górka, W Dolinie Szcześnia, Pietkiewiczówka, Nartolandia and a special ski lift for children, Baby Lift.
Frequently Asked Questions
What is interesting in Szklarska Poręba?
Szklarska Poręba is a charming town in the Karkonosze Mountains. It is a popular place among both summer and winter tourists, offering many attractions and activities. Here are some interesting things you can do and see in Szklarska Poręba: Szklarki Waterfall; cable railway to Szrenica, from where you can admire beautiful views; Mineralogical Museum; Julia Crystal Glassworks; Ski Arena Szrenica - a place for skiing and snowboarding enthusiasts with many ski slopes. Moreover, numerous fairs, festivals and cultural events take place in Szklarska Poręba, which allow you to get to know the local culture and traditions. Don't forget to try regional dishes and specialties of the Karkonosze cuisine in one of the numerous restaurants. These are just a few of the many attractions that Szklarska Poręba offers. Regardless of the season, this city is an attractive place to visit for lovers of nature, mountain landscapes and active recreation.
Szklarska Poręba corporate events?
Szklarska Poręba may be an attractive place to organize corporate events, especially if your company is looking for a wonderful mountain environment. What corporate events can be organized in Szklarska Poręba? Conferences and seminars, integration trips, thematic meetings and workshops, motivational events, holiday events, incentive trips. You can plan various types of activities, such as mountain hiking, cycling, skiing or visits to local attractions. And the mountains and surrounding areas are perfect for organizing team building activities that help build team bonds. There are so many different hotel and conference facilities in Szklarska Poręba that can accommodate business or integration meetings, that every company will find a suitable one. It is a good place to combine work with relaxation in beautiful mountain scenery. It is also a good idea to consult companies organizing mountain events that can help you plan and implement the event. One of the leading event companies, Dwór Korona Karkonoszy from Sosnówka, has its own conference and event center and organizes corporate events of all types.
Szklarska Poręba weddings?
Szklarska Poręba is a beautiful place to organize a wedding, especially if you dream of a romantic reception in a mountain setting. In Szklarska Poręba you will find many luxurious hotels and recreation centers that offer spacious banquet halls and beautiful surroundings for a wedding ceremony and reception. Many of them have experience in organizing weddings and can offer comprehensive services. If you prefer a more intimate and intimate wedding, you can consider renting a guesthouse or cottage. Szklarska Poręba offers many picturesque places for organizing outdoor wedding ceremonies, with mountain landscapes in the background. Szklarska Poręba also has many attractions for wedding guests, such as waterfalls, tourist trails, museums and other places to visit and spend time. You can also organize additional attractions for guests, such as a bonfire, karaoke, live performances or fireworks shows. Local restaurants and catering companies can prepare regional dishes for your wedding, making it a real feast for the palate. When organizing a wedding in Szklarska Poręba, it is worth paying attention to the season, because this place is popular both in summer and winter, so booking accommodation and other services in advance is crucial. With the support of local vendors and planning ahead, you can create a unique and unforgettable wedding in a beautiful mountain setting.
Szklarska Poręba accommodation?
In Szklarska Poręba you will find many accommodation options that suit various budgets and preferences. The city has both luxury hotels and more affordable options. Hotels offer different room standards and amenities, such as restaurants, spa centers and swimming pools. Guesthouses and apartments are also popular among tourists. They often offer spacious rooms with kitchens or kitchenettes, which is useful for families and people who prefer to prepare their own meals. And if you are a mountain hiking enthusiast, you can consider staying in a mountain shelter, close to nature. In Szklarska Poręba, there are many people offering rooms for rent in their houses or apartments. This is often a more budget option than hotels. If you are a camping enthusiast, near Szklarska Poręba you will also find campsites where you can pitch a tent or rent a place for a trailer. If you are planning a longer stay or traveling in a larger group, renting a holiday home may be an attractive option. There are many such houses for rent in Szklarska Poręba. Before making a reservation, it's always worth checking availability and prices, as well as whether the property meets your expectations in terms of location and amenities. Szklarska Poręba is a popular tourist destination, so it is worth booking accommodation in advance, especially in the summer and winter seasons.
Tourist trails in Szklarska Poręba?
Szklarska Poręba, located in the heart of the Karkonosze Mountains, is full of tourist trails that allow you to discover the charms of this region. The most popular tourist routes in the vicinity of Szklarska Poręba are the routes to the picturesque Szklarka Waterfall and the wonderful Kamieńczyk Waterfall, as well as the route to Szrenica, from the top of which there is a wonderful view of the surrounding mountains and valleys. You can get to the peak on foot or by cable car. The all-day trail from Świeradów-Zdrój to Szklarska Poręba allows you to admire the beautiful landscapes and nature of the Karkonosze Mountains. Moreover, in the vicinity of Szklarska Poręba there are numerous trails that lead through the entire area of the Karkonosze National Park. You can go on longer hikes to explore the area's diverse nature. The above trails are just a few examples of the rich network of tourist routes available in the vicinity of Szklarska Poręba. The choice depends on your experience level and preferences. Before setting out on the trail, it is always worth checking current information about the route and weather conditions.