Corporate events Karpacz
It's always a good time to build a team!

Karpacz - the only such place on earth...
This small, extremely charming tourist town located in the Karkonosze Mountains has surpassed Zakopane in popularity!
It's the perfect place for a corporate event. An undoubted advantage of Karpacz is its surroundings - the majestically rising peaks of the Karkonosze Mountains and the valley of the Łomnica River with numerous mountain streams. We can offer our tired employees a trip to the mountains, which will certainly prove to be a balm for body and spiritafter months of hard work.
For people who are not passionate about hiking, there are many attractions worth seeing here. One of them is the historic church of Wang from the 12th century, moved to Karpacz from Norway (Vang) in the second half of the 19th century. It is the only temple of this type in Poland and one of the few in Europe. There is also a Scandinavian-style cemetery in the immediate vicinity of the church. In addition, in Karpacz we will find an active toboggan run and a ski jump. In one word - Karpacz attractions of the event!
Karpacz and its surroundings are also an ideal place for integration meetings, company events, banquets, conferences and training. The Karkonosze Mountains are also a willingly chosen region for business meetings, negotiations, but also trips to the mountains or Karpacz wedding.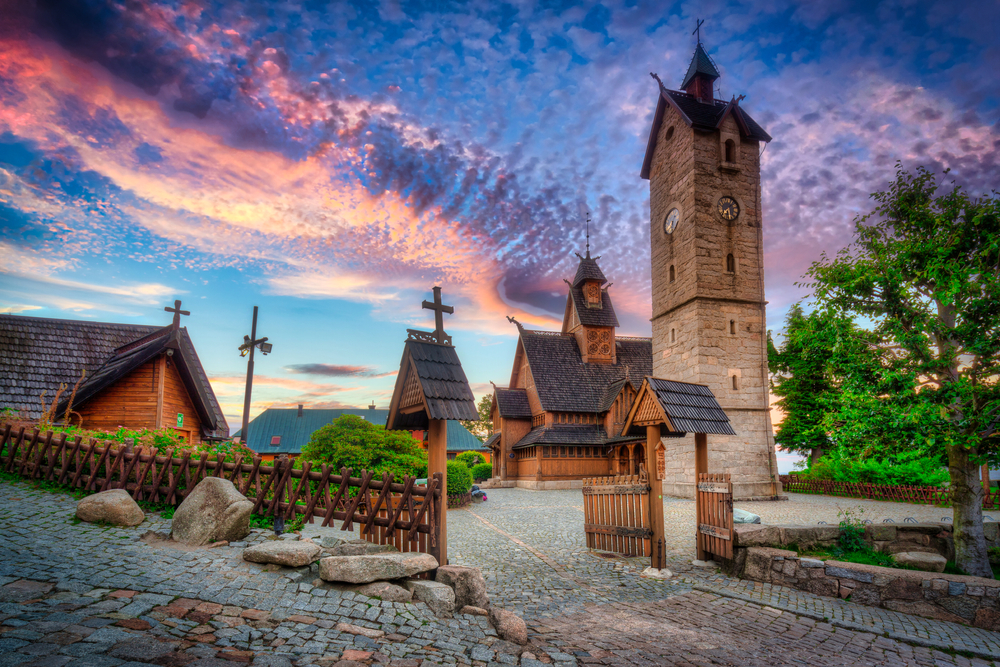 Corporate event in Karpacz - it's beautiful here!
A corporate event in Karpacz will be an ideal escape from the big-city lifestyle. Every employee will find something for themselves here – both people who like active rest and those who prefer carefree relaxation.
Karpacz and its surroundings are a perfect place for hiking, cycling or learning about local folklore. On the other hand, we can calm down here and calmly contemplate nature. Organize a company event in the heart of nature – among countless hills, lakes and castles, surrounded by the menacingly rising peaks of Mount Śnieżka and feel the magic of the Polish Karkonosze Mountains!
We also invite you to a beautiful facility - The Crown of the Karkonosze Manor – located in Sosnówka, just 5 km from Karpacz! We organize company events "szyte na miarę", dostosowywane do indywidualnych potrzeb klienta.
W naszej ofercie proponujemy kilkadziesiąt scenariuszy parties firmowych, m. in. jazdę quadami, zimową szkołę przetrwania, biesiadę piwną z ogniskiem. Posiadamy także stylową, klimatyzowaną Salę Balową, mieszczącą 170 osób!